This report originally published at southcom.mil.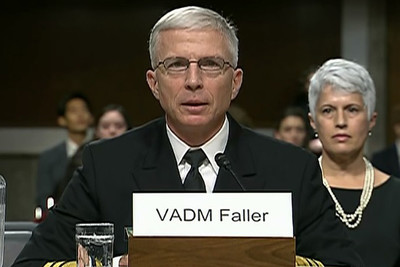 WASHINGTON, Sept. 25, 2018 —
President Donald J. Trump's nominee to serve as the next commander of U.S. Southern Command told the Senate Armed Services Committee today that he would commit all of his energy to ensure Southcom is ready to do its part to pursue opportunity and manage challenges.
Navy Vice Adm. Craig S. Faller, now the senior military assistant to Defense Secretary James N. Mattis, will receive his fourth star if confirmed for the post.
"We're fortunate to live in the Western Hemisphere interconnected by a bridge of common cultural bonds, shared values, and with a few rough exceptions, strong democratic principles," Faller said at today's confirmation hearing.
A hemisphere that shines is a beacon of opportunity in a world awash in complexity and rapid change, he said. "During recent travels to the [Southcom] region with the secretary of defense, I saw first-hand the opportunity and willing partners like Colombia, Chile, Brazil and Argentina." Faller told the senators.
National Defense Strategy
The 2018 National Defense Strategy sets clear guidance, he noted.
"We will field a more lethal and ready force," the admiral said. "We will build new and stronger partnerships, and we will scrupulously account for every resource the Congress has authorized and appropriated."
Faller noted multiple challenges that he said must be dealt with aggressively, from the return of great-power competition with Russia and China to threat networks of criminals and violent extremists that traffic in drugs, weapons, humans, illegal immigrants and illicit goods and undermine the sovereignty and security of the United States and its partners.
Nationally, he said, the 72,000 U.S. drug-related deaths last year constitute a crisis. "And if confirmed as Southcom commander, I will remain committed to doing our part to deny, degrade and destroy this scourge," he added.
The United States military must compete and win, the admiral said.
"There is no other choice for our nation's security," Faller told the Senate panel. "Teamwork wins. Just as nations with allies and partners thrive, our combatant commands must work together with all parts of the DoD team, our interagency partners and Congress." His aim, he said, is to strengthen and enhance relationships and teamwork.
Message to Partners
Faller shared the message he plans to convey to U.S. partners.
"My plain and simple message to our friends in the region is 'the United States is a reliable and trustworthy security partner," he said. "Our commitment is unwavering. The United States is your security partner of choice. We offer unmatched military education, training and equipment with U.S. ingenuity, technology and experience to back it up.
"International military education and training, … along with foreign military sales and building-partner-capacity authorities, are strategic game changers," he continued. "We are your reliable security partner, and with ever-present threats to our homeland, teamwork is more important than ever."
The United States competes best with the power of its ideas and ideals and with its inspiration, education and commitment, the admiral said.
"Latin America and the Caribbean are not our backyard. It's our shared neighborhood," Faller said. "And like the neighborhood … where I grew up, good neighbors respect each other's sovereignty, treat each other as equal partners with respect, and commit to a strong neighborhood watch."
(Follow Terri Moon Cronk on Twitter: @MoonCronkDoD)
U.S. Southern Command (SOUTHCOM) reports are created independently of American Military News (AMN) and are distributed by AMN in accordance with applicable guidelines and copyright guidance. Use of SOUTHCOM and U.S. Department of Defense (DOD) reports do not imply endorsement of AMN. AMN is a privately owned media company and has no affiliation with SOUTHCOM and the DOD.