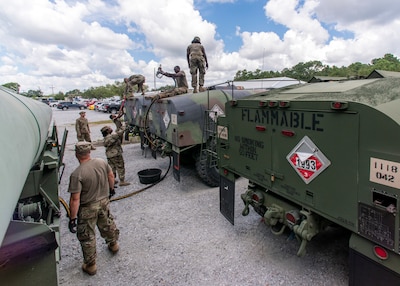 ---
COLUMBIA, S.C. —
As South Carolina residents and emergency responders prepare for Hurricane Florence, the South Carolina National Guard has mobilized about 1,600 soldiers and airmen to prepare, respond and participate in advance of the major hurricane projected to make landfall near the Carolinas.
South Carolina Gov. Henry McMaster declared a state of emergency Sept. 8, enabling the South Carolina National Guard to activate guard members to get ready to support first responders and counties.
'We have guard members preparing throughout the state, ready to meet the requests from our partnered agencies and emergency managers,' said Army Maj. Gen. Robert E. Livingston Jr., the state's adjutant general. 'We are well-positioned with people, and as needs increase, we will activate additional soldiers and airmen.'
Although as of yesterday afternoon Hurricane Florence was a Category 3 hurricane, models and forecasts predict that it will intensify into a Category 4 hurricane. The potential area of impact includes a wide swath of the eastern coastline, with the greatest impacts anticipated in South Carolina and North Carolina. Many factors could change the path and landfall location of Hurricane Florence, forecasters say, but the models agree its intensity is expected to increase.
Trained for Emergencies
The South Carolina National Guard regularly trains for emergency events throughout the year. Water purification, lane reversals, high-water rescue, health and welfare checks and sandbag efforts are all a part of the guard's abilities to support local and state authorities and to assist the state and its citizens during response and recovery efforts.
The South Carolina National Guard has responded to multiple natural disasters over the last several years, including to Hurricanes Matthew and Irma, along with support to Texas for Hurricane Harvey and in Puerto Rico for Hurricane Maria.
'We are well-prepared to support our neighbors during this event,' Livingston said. 'We continue to urge all South Carolinians to listen to the information from emergency personnel and to not take this storm lightly. Team South Carolina is ready."