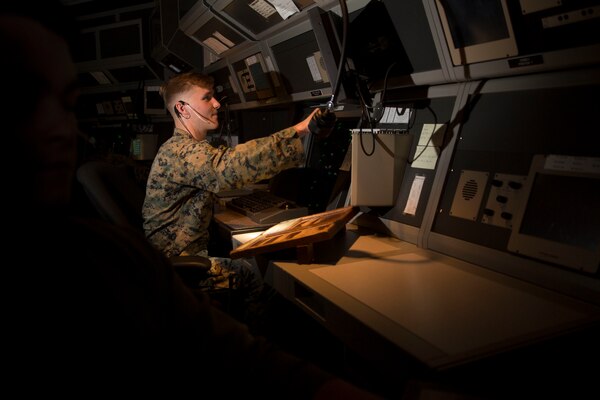 BEAUFORT, S.C. —
As leaders, as Marines, as the man or woman who left home because they felt the call to serve, we share a high standard of morals and ethics. You will find that many Marines spend their free time the same way they spend their work day, serving. For Cpl. Jacob Lenling, it is a way of life. With 431 hours and counting of volunteer work, he serves at Help of Beaufort and any other event or community festival that he finds out about.
December 5th marks International Volunteer Day, which was initiated by the United Nations in 1985. It is a day set aside to promote volunteerism and to recognize those who volunteer.
"Some people think that it's hard to balance work, learning your job, studying, and volunteering but it's an excuse," said Lenling. "I don't view it as a sacrifice because of what I gain from it. I think I could volunteer more actually. The biggest factor is my faith."
Lenling went on to explain that upon joining the Marine Corps it reaffirmed his beliefs; the ideals that the Marine Corps taught him lined up with his upbringing. Helping those in need is in fact his duty and responsibility.
"I started volunteering when I was at my military occupational specialty school. Initially it was to get off of base and get to see the local area, but then I started seeing it as a way to be a part of something bigger — a part of the community." Cpl. Jacob Lenling, an air traffic controller with Headquarters and Headquarters Squadron
"It's just like the Marine Corps," said Lenling, a native of St. Paul, Minnesota. "We lead by training, teaching, and serving those under us. It's the same with volunteering – leaders serve."
The Help of Beaufort is where Lenling spends most of his time. What was appealing to him about it is they are a close knit team of Beaufort locals who share the same passions.
"There's a selection process and you get interviewed," Lenling said. "Getting to meet people with the same beliefs and goals as you is just another benefit of volunteering, but the biggest take away is that by volunteering you take ownership in building up your community and make it your home. It's hard being away from home, I didn't like it at first, but it started feeling like home when I started volunteering and meeting people."
120419-M-PL134-002
Photo by Sgt. Ashley Phillips
Lenling works at the food shelf whenever he can. For weeks during the past summer he would go volunteer before work. His fellow volunteers at Help of Beaufort know they can rely on him to help them with anything and he has become a part of that family.
"Jake is awesome; He's a powerhouse," said Lori Opozda, the Interim Executive Director of Help of Beaufort. "Whatever you need him to do he can do it and he'll drop anything to help the [other volunteers]. He is a great addition to our team, and we absolutely look forward to him working with us again in January."
Lenling plans on continuing to work with Help of Beaufort and volunteer in the community as much as possible. As a Marine he embodies the idea of servant leadership. By contributing to his community, getting to know the volunteers, and being selfless with his time, he has created a steadfast community and made Beaufort feel like home.
"I think my biggest motivator would be a bible verse, Matthew 25:35," said Lenling. "It says 'I was hungry and you fed me, I was thirsty and you gave me a drink. I was a stranger and you invited me into your home.' That's the reason I do it. What better way could I spend my time."