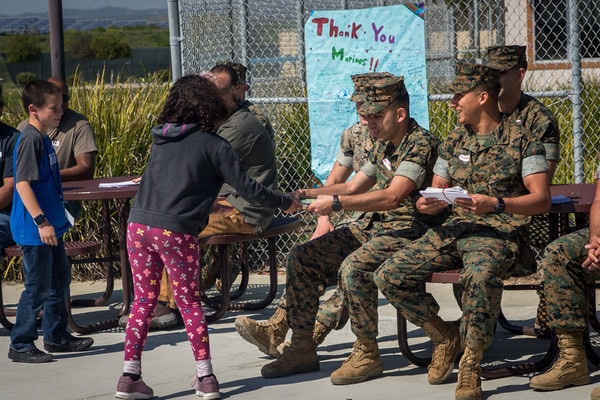 CAMP PENDLETON, CA —
Marines are some of the toughest people you'll meet. With stone-cold stares that would frighten an enemy, the children of Santa Margarita Elementary School witnessed something entirely different when a sinkhole disrupted their lives. After rainstorms swept through Southern California earlier this year, Marines with Bridge Company, 7th Engineer Support Battalion (7th ESB), 1st Marine Logistics Group and contractors with Facilities Maintenance Department, Marine Corps Installations West, built a bridge over the sinkhole connecting the elementary school and sections of on-base housing to the rest of the installation. On March 19, 2019, Santa Margarita students got to say thanks.
"It was around 2 p.m. when we got the call that we had to go look at a sinkhole near the school," said Lance Cpl. Anudamodaran Kumarkurup, a combat engineer with 7th ESB. "There was talk of needing to build a tactical bridge, but we weren't sure till we arrived; it was all very unexpected, but we got ready, gathered all of our things and left."
Until repairs to the original bridge could be completed, 7th ESB's tactical bridge temporarily provided the community and school staff the ability to go to and from their residences in their vehicles.
"We train a lot, we build bridges over gaps all the time," said Kumarkurup. "We just had a course where we built eight bridges, so that helped in terms of being prepared."
The students and teachers of Santa Margarita Elementary School made personal "thank you" letters and posters they wanted to give to 7th ESB Marines that built the bridge as a token of their appreciation. When the gesture was brought up to Mr. Frank English, principal of the elementary school, he thought it would be a great idea to host a "thank you" ceremony at the school. This way personnel who built the bridge could come and receive the children's appreciation in person.
Helping the community is a hallmark of Marine culture. As a result of 7th ESB's visible support, their bridge also created a bond with the kids and the community that they will always remember.
"To be thanked by the kids makes us feel appreciated, knowing we built a bridge for them and their families and not just for training; it feels good," said Kumarkurup.
The bridge also helped them plan the future of the school, adding an alternate entrance in the rear that would allow secondary access in the event of another disaster. Despite the seemingly simple nature of what a bridge is supposed to do, construction of one is anything but simple.
"The bridging itself might look easy because of the way we move fast, but building a bridge is a tedious job with many moving parts, and there was a lot of us doing it, contributing to our success in a short amount of time."
No matter how simple or how long the building took, the reaction and appreciation of the children and staff were instant, leaving an impression the school will feel long after this school year.
"From all the faculty and children at Santa Margarita Elementary School, we thank you Marines and staff," said Mr. English.