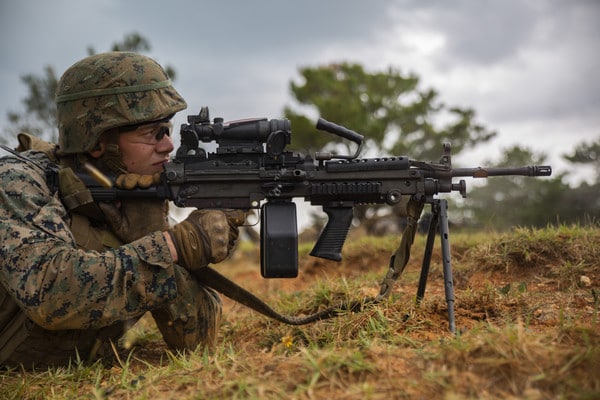 Camp Hansen, Okinawa, Japan — Marines with 3rd Marine Logistics Group traversed through slippery mud and grass while heading toward wooden walls for cover during a fire and movement range Oct. 24, 2018, at Camp Hansen, Okinawa, Japan. Dark-green targets rose from the ground, prompting a Marine to shout at the top of his lungs, "Contact front!"
During the range, the Marines with 3rd MLG practiced their marksmanship skills, improved their communication and worked on their weapons handling while engaging targets.
Staff Sgt. Ryan Betonie, an infantry unit leader with Tactical Readiness and Training, G-3, 3rd MLG Headquarters, said the Marines applied different rifleman techniques such as quickly identifying the target, as well as moving down range with a fireteam buddy and maintaining alignment with their squad.
The main technique the Marines executed was "buddy rushing," which is done by some Marines firing at the targets, while others rushed forward. The process repeated until they have reached a location and "closed with" the enemy.
Another important skill the Marines practiced was communication. During buddy rushing, Marines must pass crucial information such as the status of their equipment and the amount of ammunition they have remaining.
"The [fire and movement drill] allows the Marines to gain mastery in moving and communicating as they assault the objective," said Lance Cpl. Markus Dodd, a machine gunner with TRT, G-3, 3rd MLG Headquarters.
Some Marines only fire a weapon once per year during their annual rifle qualification, however, during the fire and movement range, Marines with Headquarters Regiment were able to join the infantry Marines.
"We like to incorporate our training so that Marines that don't often get this type of training can come out and experience it," said Betonie. "We do like to come out here and sharpen our skills, tactfully"