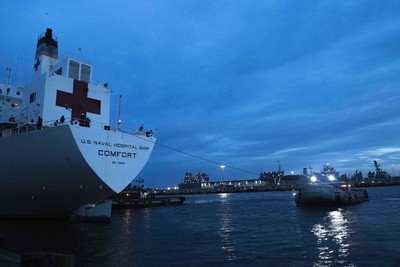 Oct. 17, 2018 —
CARIBBEAN SEA (NNS) — Moving closer to providing care in the first country of an 11-week medical mission in support of Enduring Promise 2018, providers and corpsmen aboard hospital ship USNS Comfort (T-AH 20) are eager to execute a major initiative­ — preventive health care.
A person's body is affected by environmental factors, genetic predisposition, disease agents and lifestyle choices. Preventive medicine consists of a variety of different ways to mitigate factors that contribute to many human health conditions, ranging from immunizations to educating people on proper hygiene and diet.
"Preventive medicine has a place in every aspect of this mission," said Cmdr. Shannon Blackmer, Preventive Medicine Team (PMT) leader aboard Comfort. "Our job is to keep the ship's crew, all of the providers and everyone that is part of the mission, healthy and injury-free so that they can complete their mission and treat patients."
Preventive health providers will be among the first to go ashore to ensure locations are sanitized properly and prepared to take patients.
"We have a robust preventive medicine team that will be on shore at the sites to monitor for anything that might increase the risk of disease transmission or injury, and ensure that all efforts are being made to keep risks low," said Blackmer. "They will also be assisting the med-site team."
Along with providers from around the world, U.S. Navy corpsmen, who augment the Comfort's staff, will also be on-site to assist in any way they can.
"Preventive medicine is looking at the things that people don't tend to look at," said Hospital Corpsman 2nd Class Termaine Favors, a member of the PMT. "We're here to remind people of all the things that are commonly overlooked – things like hygiene, hydration and eating habits."
While treating all patients is a priority, educating and treating children will be one of Comfort's primary goals in order to create a healthier foundation for future generations.
"Even though it sounds simple, teaching about how to wash your hands – the fact that you have bacteria or viruses on your hands and teaching children about basic hygiene – goes a long way," said Blackmer. "We also have our entomologist and our microbiologist that are going to set up stations to demonstrate what malaria looks like under a microscope and giving children a chance to look at insects under a microscope."
The PMT will also be focusing on the crew's safety while at sea. They will be responsible for water and ice surveillance, food safety, sanitation conditions, heat-stress monitoring and keeping immunization records updated.
"We do everything we can to find out what the hazards are to our force's health and do everything we can to mitigate those risks," said Blackmer.
Comfort is on an 11-week medical support mission to Central and South America as part of U.S. Southern Command's Enduring Promise initiative. Working with health and government partners in Ecuador, Peru, Colombia and Honduras, the embarked medical team will provide care on board and at land-based medical sites, helping to relieve pressure on national medical systems caused partly by an increase in cross-border migrants. The deployment reflects the United States' enduring promise of friendship, partnership and solidarity with the Americas.
For more information, visit www.facebook.com/NAVSOUS4THFLT, www.dvidshub.net/feature/comfort2018, and www.navy.mil.
Get more information about the Navy from U.S. Navy Facebook or Twitter.
For more news from U.S. Naval Forces Southern Command & U.S. 4th Fleet, visit www.navy.mil/local/cusns/.