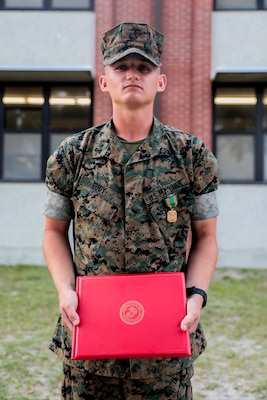 NEW ORLEANS, LA, UNITED STATES —
Lance Cpl. Caleb Eudy, with Company C, 1st Recruit Training Battalion, became a Marine despite battling cancer and being determined unfit for duty, and he did it with the support of the Marines with Kilo Battery, 2nd Battalion, 14th Marine Regiment, 4th Marine Division.
Eudy decided he wanted to join the Marine Corps to better his and his wife's lives. It was his father-in-law who introduced the idea of joining the Marine Corps to him. The ideals that he learned about before joining are the same values that kept him fighting for his life.
"My wife's father was a master gunnery sergeant in the Marine Corps so I saw what he had and I wanted it," Eudy said. "He taught me about honor, courage and commitment. He taught me what the Marine Corps could do for me."
Eudy endured recruit training for approximately one month before receiving the life-changing news that he had been diagnosed with Lymphoma.
"I was told I had cancer," Eudy said. "How do you react to that?"
While fighting cancer, Eudy was sent back home to Arab, Alabama, and was attached to Battery K, 2/14 located in Huntsville, Alabama. If it wasn't for the support that the unit offered him, he wouldn't be a Marine today.
"If I didn't have them backing me up, I definitely would not have decided to stay in the Marine Corps," Eudy said.
During this time, he experienced the brotherhood of the Marines around him as they helped him through his personal battle. The camaraderie reminded Eudy of why he wanted to become a Marine in the first place.
"I felt that brotherhood which I had never felt before," Eudy said. "They took care of me and I wanted that. I wanted to be part of a family that was more than just my own family."
Eudy wasn't the only one who felt esprit de corps. The Marines with Battery K, 2/14 also felt the connection with him.
"He left a major impact on the Marines in the unit," said Staff Sgt. Michael Burns, an administrative chief with Battery K, 2/14 said. "I think all of them see that nothing is impossible if you put your head, mind, body and soul to it, you can do anything."
After Eudy won the battle against cancer, he had another battle to face. He was determined unfit for duty and told he would receive disability benefits, but that's not what he wanted. He had to prove he was fit to return to recruit training and finish what he started.
"I asked him if he wanted to get out with benefits or if he wanted to become a Marine," Burns said. "He looked me in the eyes and said 'I want to be a Marine. I don't care how much money it is. I just want that title of being a Marine.' From that day on I knew I couldn't change his mind. Nobody could change his mind."
The idea of becoming a Marine motivated Eudy to stay positive throughout the duration of his treatment and he wasn't going to have his dream taken away without a fight.
"The doctors saying that I couldn't do it irritated me because I had fought for a year and a half at that point just to stay in the Marine Corps," Eudy said.
He didn't fight alone. Burns was right by his side to vouch for his abilities and help him get back to Parris Island, South Carolina, to become the Marine he wanted to be.
"I went to Washington D.C. with him to give my recommendation for him to stay in the Marine Corps," Burns said. "All of us had a part in his fight to stay in the Marine Corps and his fight with cancer."
He proved himself fit for duty and returned to recruit training ready to become a Marine. He finally made his dreams reality by becoming a Marine after 956 days as a recruit. He also reenlisted to make up for the time he missed.
"The past 956 days have been the best days of my life," said Eudy. "Cancer took away everything, but it also gave me everything."
On April 26, 2019, Eudy was awarded the Navy and Marine Corps Achievement Medal at Parris Island. As a Marine, he plans to grow and help others the way Marines with Battery K, 2/14 helped him.
"I just want to do the best that I can in the Marine Corps and motivate others because they motivated me," said Eudy.
After winning a personal battle with cancer, Eudy is ready to fight and help win our nation's battles as a United States Marine.
"He's a man of honor, integrity and courage," Burns said. "He proves that anything is possible. Adversity is just a word. You can get through anything if your head is in it."