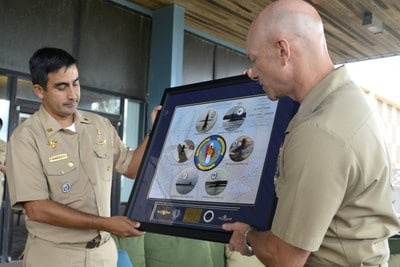 Oct. 29, 2018 —
MAYPORT, Fl. (NNS) — Peruvian and U.S. Navy Sailors celebrated 89 days of joint operations with the Peruvian Submarine BAP Arica (SS-36) at a closing ceremony held at Naval Station Mayport, Oct. 22.
The Arica's participation is part of the Diesel-Electric Submarine Initiative (DESI). Established by U.S. Fleet Forces Command in 2001, the DESI program is a U.S. Navy partnership with South American countries and supports their diesel-electric submarine operations and fleet readiness events in operating areas off the U.S. east and west coasts.
During its 89 days of stateside operations, Arica participated in fleet pre-deployment exercises with the Kearsarge Amphibious Readiness Group and conducted anti-submarine training with the Maritime Patrol and Reconnaissance Aircraft and the Helicopter Weapons School.
Capt. Robert Wirth, commodore of Submarine Squadron 20, praised the crew members of the Arica on their initiative and devotion to duty during their operations, providing critical anti-submarine warfare training.
"The Arica proved to be a quiet and elusive adversary, providing valuable insights into tactical operations against modern diesel submarines," said Wirth.
Rear Adm. Luis Alba, commander of the Peru Submarine Force, applauded the Arica on their performance and the value the DESI program adds to the submarine force.
"Arica is the best fast submarine for this exercise,' said Alba. "Peru gains so much experience from the opportunity to participate in this program and I look forward to these exercises for years to come."
During the ceremony, each crew member received a DESI deployment pin and certificates.
This marks the Peru's 15th deployment as part of the DESI program.
Get more information about the Navy from US Navy Facebook or Twitter.
For more news from Commander, Submarine Group 10, visit www.navy.mil/local/csg10/.