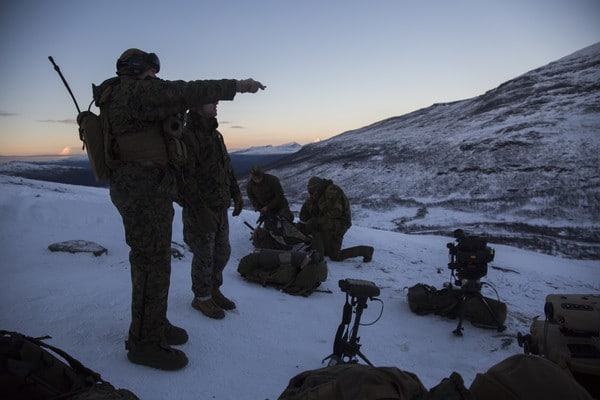 Setermoen, Norway —
U.S. Marines with Marine Rotational Force–Europe 19.1 and Norwegian Army soldiers conducted close-air-support drills in during Exercise Northern Screen in Setermoen, Norway, Oct. 25, 2018.
Northern Screen is a bilateral exercise that includes cold-weather and mountain-warfare training between MRF-E Marines and the Norwegian military, Oct. 24 to Nov. 7, 2018.
"A lot of what we do as joint terminal attack controllers is structured off of a NATO standard and by us communicating with our Norwegian allies we're overall increasing our ability both as Americans and a united force on how we do our procedures," said Sgt. John C. Prairie II, a Joint Terminal Attack Controller for MRF-E. "It's making us more tactically and technically proficient."
The Marines practiced aircraft medical evacuations and discussed air-control tactics to ensure safety and success in extreme cold-weather environments.
"With cold-weather training and the gear, one of the biggest downfalls we have is that electronics drain a lot quicker," said Prairie.
To mitigate such effects Marines cycle through gear more often to keep electronics charged and minimizing use to conserve energy.
"It's good to work with the gear in a new environment," said Prairie. "Setting it up, breaking it down, running through the processes, it gives you a new look on how to do it in a new environment."
Arctic conditions not only affect gear, but also Marines. They must adapt and train to overcome environmental challenges and succeed in missions without injury.
"The cold-weather predeployment training has really helped out the Marines and really prepared them for what we're doing out here," said Prairie. "I feel that everything has gone very smoothly, we've definitely improved our efficiency both with our gear setup, break down, our communications with the aircraft and the processes with the Norwegians. I think we've done a really good job of building up our ability here."
This opportunity is a vital asset to train with other nations in environments unlike those in the U.S. This type of training improves NATO capabilities in a non-combative environment to be prepared for any challenges our Allies might face.