This report originally publishes at marines.mil.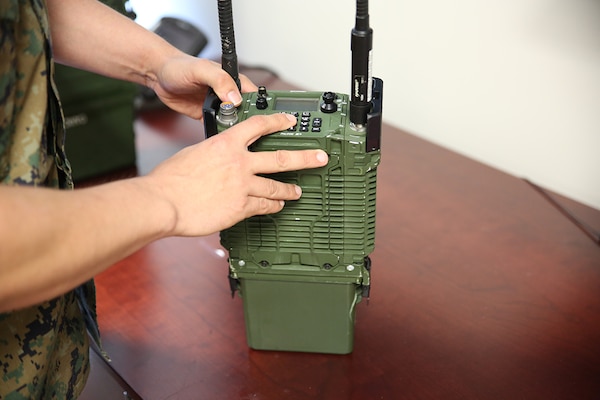 MARINE CORPS BASE QUANTICO, VA —
The Marine Corps' radio systems are getting smaller, lighter and more capable.
The Corps plans to employ multichannel radio systems that enable Marines to simultaneously monitor two radio networks. The capability will enhance situational awareness and increase the speed of execution on the battlefield.
The system's multichannel functionality is the first of its kind in the Marine Corps.
"The multichannel radios integrate the capability of two legacy radio systems into a single form factor," said Capt. Shawn Avery, project officer for Multichannel Radio Family of Systems at Marine Corps Systems Command. "Before, we were able to operate on one radio network at time, but now a Marine can operate on two radio networks simultaneously—increasing their access to information and enhancing their overall situational awareness."
Marines have primarily used the AN/PRC-117G, a portable, single-channel radio that was fielded in 2011. The AN/PRC-158—a version of the multichannel radio— is a man-packable configuration that has twice the amount of capability and operates in a larger radio frequency spectrum.
"Multiple channels increase our resiliency," said Avery. "By being able to leverage different parts of the RF spectrum simultaneously—whether we're in a permissive environment or not—we'll enhance connectivity in difficult environments, increase survivability and provide a level of network interoperability not previously available. These are factors that contribute to mission accomplishment."
The Corps also plans to field a handheld multichannel radio. Both the handheld and man-packable systems will be capable of interfacing with a vehicular integration kit and can be mounted onto any military vehicle, such as the Joint Light Tactical Vehicle.
Multichannel radios lighten the load for warfighter
A goal for the Corps when acquiring new capabilities is to reduce the amount of weight the warfighter carries. The multichannel radios will lighten the load for Marines by encompassing two radios in one system, allowing a unit to haul a multichannel system rather than two individual radios.
"The multichannel radio is about the same weight as the system that it is replacing—the AN/PRC-117G," said Avery. "However, because it can accomplish the workload of two radios, this newer system actually decreases the equipment footprint at the unit level, making us lighter and faster."
Acquiring multichannel radio systems comes at an important time. A mandate by the National Security Agency requires that all radios not compliant with cryptographic modernization standards be replaced by 2024. MCSC's Command Element Systems is tasked with replacing aging radios with newer, COMSEC-compliant devices in the next five years.
In addition to supporting the warfighter on the battlefield, the introduction of the multichannel radio system is a significant step toward meeting the NSA's mandate.
"We have a roadmap to get these radios replaced with a more modern capability," said Lt. Col. Jeffery Decker, MCSC's team lead for Ground Radios.
The Corps is seeking a Field User Evaluation of the AN/PRC-158 by the fourth quarter of 2019 and anticipating a procurement decision in 2020. The capability is slated to be fielded by operating forces before 2021.
"We have a Herculean task in replacing these older systems by 2024," said Decker. "But this is a great time to be in ground radios because our mission is clear."
U.S. Marine Corps (USMC) reports are created independently of American Military News (AMN) and are distributed by AMN in accordance with applicable guidelines and copyright guidance. Use of USMC and U.S. Department of Defense (DOD) reports do not imply endorsement of AMN. AMN is a privately owned media company and has no affiliation with USMC and the DOD.