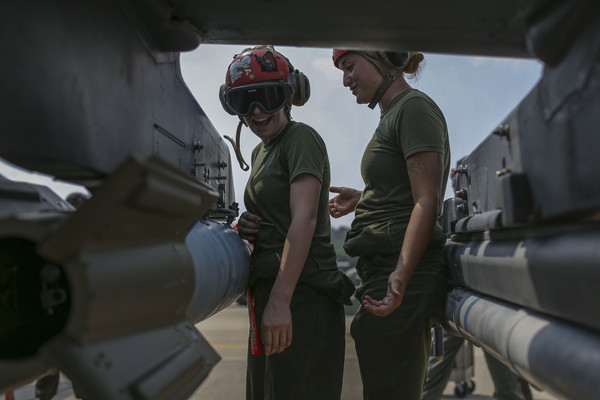 Camp Douglas, Wis. —
Marines from units across 3rd Marine Aircraft Wing provided assets and personnel during Northern Lightning 18-2, a joint training exercise at Volk Field Counterland Training Center, Camp Douglas, Wis. Aug. 13-24.
Even though the primary mission of Northern Lightning is aviation training, there are hundreds of Marines behind the scenes ensuring pilots launch, execute their mission and land safely.
"In the air wing community we put in a lot of man hours to make sure these jets can get up and accomplish their mission with no complications," said Cpl. Kirk McLaughlin, a power line mechanic for Marine Attack Squadron 311. "Our number one priority is ensuring that our pilots are safe, even if that means we are working on the weekends."
Multiple sections work together within a squadron to keep aircraft in top operating condition.
"It's not just one system or one shop that makes this jet work," said Cpl. Alexandra Guender, an avionics technician for VMA-311. "Power lines, "avi," airframes, c-shop, ordnance, or maintenance control…we are all very important in making this jet fly safely for our pilots and the civilians who might be under the airspace we are working out of."
Ensuring missions are accomplished in a safe, effective manner is a top priority for the Marines Corps. Without mechanics who do their job well, aircraft would be unsafe and ineffective for the Marine Air Ground Task Force.
"We all have a very integral part in ensuring our jets are operational." said Guender. "No matter what specific job the mechanic has, we are essential in ensuring that our missions run smoothly, whether we are training in scenarios like Northern Lightning or actually employing our assets overseas."