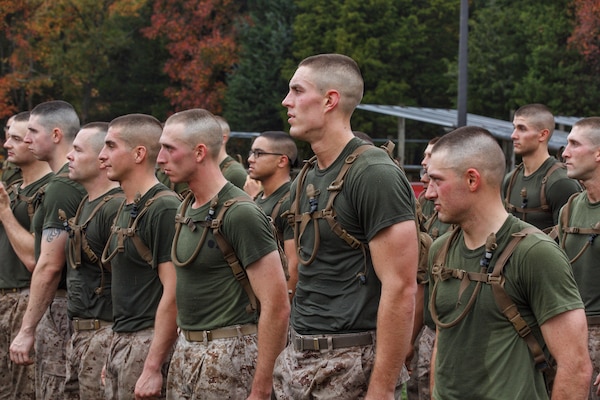 QUANTICO, Va. —
Former Michigan linebacker Noah Furbush, 24, is training to become a commissioned officer in the United States Marine Corps at Marine Corps Officer Candidates School in Quantico, Virginia. OCS vigorously screens and evaluates Marine Corps officer candidates primarily on their leadership as well as academics and physical fitness in order to determine their suitability to lead Marines, making the tough decisions required to win our Nation's battles.
Furbush grew up in Kenton, Ohio and graduated from Kenton High School in 2014. He was recruited to play linebacker at the University of Michigan where he played 45 games, registering 56 tackles, one sack, two interceptions, and two fumble recoveries with one being a touchdown.
191031-M-PH073-006
Photo by Staff Sgt. Bryan Nygaard
Furbush was a four-year Academic All-Big Ten honoree and the recipient of the 2018 Dr. Arthur D. Robinson Scholarship Award, given to the top UM football student-athlete. He graduated in 2018 with a degree in aerospace engineering and then graduated with a master's degree in space engineering in 2019. Earlier this year, Furbush co-authored a study by Ford Motor Company and the University of Michigan titled "Role of flying cars in sustainable mobility."
Furbush is scheduled to graduate from the 10-week officer candidate course November 16 at Marine Corps Base Quantico, Virginia where he will subsequently commission as an officer in the United States Marine Corps.