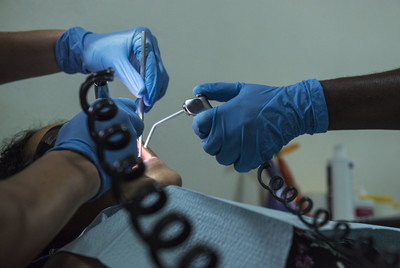 SOTO CANO AIR BASE, HONDURAS, Oct. 16, 2018 —
Members of Joint Task Force-Bravo Medical Element provided care for children from a local orphanage at a clinic in Comayagua, Oct. 11.
The visit to the clinic was part of a weekly routine, which alternates between the Napoleon Bográn Health Center and the Manuel Andara School, the MEDEL dental professionals have to care for city children who may not otherwise have the means to be seen by a dentist.
"As part of the humanitarian and civic assistance program that JTF-Bravo coordinates or executes we have an activity called the ongoing weekly dental visits to a couple places in Comayagua, either at Napoleon Bogran Health Center, or mainly, Manuel Andara School which has a dental clinic in it," said Dr. Wilmer Amador. JTF-B MEDEL liaison officer.
Caries, which are cavities in the teeth formed by acid-creating bacteria, are the most common issue the dental team sees during their visits.
According to Amador, caries affect 95 percent of the Honduran population and can be extensively found in pediatric care.
"In some pediatric patients, like at the school for instance, we see rampant caries, children with six, eight, or sometimes 10 decayed teeth and it takes three or four visits sometimes to discharge them dentally speaking," said Amador.
During the community visit, Col. Wing Djaya, JTF-B MEDEL dentist, provided around seven fillings and saw three patients.
Staff Sgt. Rosa Vazquez, JTF-B MEDEL dental hygienist, said the clinic visits are mutually beneficial, giving them a unique experience and challenging them to perform without all the vast resources that U.S. Army dental clinics typically contain.
Dental health can affect an individual's overall health as well as their self-esteem. Without proper dental hygiene, an individual may develop permanent health effects such as loss of teeth.
During the weekly visits, MEDEL personnel see around three to four patients culminating to approximately 90 patients a year, not including their additional medical missions. The ongoing program to provide restorative dentistry to the local community began in 2013
Sgt. Taneka Hearne, JTF-B MEDEL dental hygienist said she hopes the program continues for many more years and expands to include further educating patients and their parents on dental care.