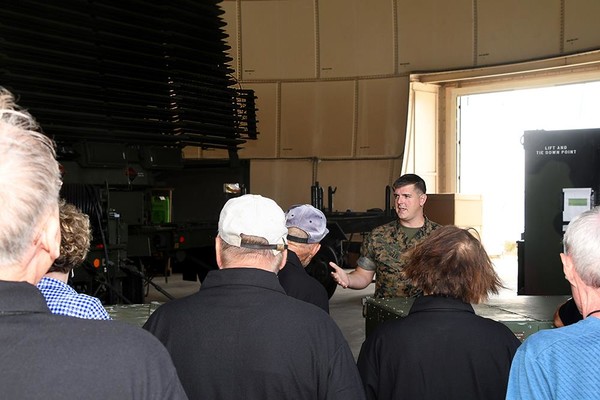 MARINE CORPS BASE CAMP PENDLETON, CA —
Marine Corps Tactical Systems Support Activity welcomed Vietnam veterans from Marine Air Support Squadron 3 to MCTSSA's headquarters aboard Marine Corps Base Camp Pendleton this summer.
MCTSSA hosted the veterans and their family members, who hail from all over the country, as part of a 50th reunion tour that took them to various units across base.
As a Vietnam-era tactical technology support organization, MCTSSA has served the Marine Corps for nearly five decades and shares an aviation support-related background with the veterans.
Established in 1970, MCTSSA was formed around the nucleus of Marine Air Control Squadron 3, with its organic Tactical Computer Programming Section, which was recognized as the first computer automation effort by the Marine Corps.
Veterans who served at various times in the Marine Air Command and Control Systems, or MACCS, in Vietnam between 1966 and 1971 primarily supported close air support of fixed wing and helicopter aircraft in either the Direct Air Support Center or Air Support Radar Team.
MCTSSA Marines and civilians spoke with these battle-tested veterans about the past, present and future of radar and overall support of operating forces.
"This tour brought back memories of the radars we used in the Marine Air Control Squadrons in the 60s and 70s," said retired Lt. Col. Charles Manazir, former MASS-3 air support officer and participating veteran, adding that he enjoyed the tour and thought it was very informative.
Manazir had high praise for the MCTSSA Marines who briefed the group of veterans.
"The Corps is still in good hands," said Manazir. "You are carrying on our proud Marine Corps tradition, and we salute you."
Another veteran who attended the event was retired Col. Ken Brown. Brown served with MASS-3 in Vietnam from February 1970 until June 1971, and holds the distinction of serving as MCTSSA's commanding officer from 1990 to 1993.
Brown said he felt proud and privileged to have been one of the "caretakers" of the MCTSSA legacy.
"MCTSSA has some of the smartest people, both Marines and civilians, in the entire Marine Corps," said Brown. "MCTSSA is a very unique and valuable asset, capable of being a key component for ensuring our Marines continue to receive the technology and systems needed on future battlefields."
Full-scale use of electronic data in military conflict has come a long way since Vietnam and has fundamentally changed the nature, timeliness and availability of battlefield information, with MCTSSA being a key enabler along the way.
This quantum leap in technology is even more significant, consideringthe state of electronic and computing technology during the late 1960s and early 1970s. The Marine Corps' version of a standard Navy tactical computer – known as the CP-808 – was about the size of a refrigerator; radar "graphic" displays located in a Tactical Air Operations Center were enormous, immobile cathode ray tubes that presented data as simple alpha-numeric blips on the screen; and the world's first eight-bit microprocessor – the catalyst in opening the door to the powerful, inexpensive personal computers commonly used throughout the Marine Corps today – had just been invented.
Whether providing close air support fifty years ago or enabling successful deployment of today's command and control gear, Marines past and present deliver.
"These Marines fought for their country from Da Nang to Khe Sahn and many points in between giving the operating forces the eyes they needed to put steel on target," said Col. Robert Bailey, MCTSSA commanding officer. "They were operating the most sophisticated military equipment of that time and five decades later, Marines are continuing to operate the most advanced systems to win the day."
The event concluded with a group photo and many handshakes to go around.
"Thank you very much for the time you spent sharing the now and the future of Marine Corps radar advancements," said Bruce Meachim, a participating veteran who was a sergeant during his time with MASS-3. "I was and always will be a 5961 TPQ-10 radar tech, oh yeah, and a rifleman."
MCTSSA, the only elite full-scale laboratory facility operated by the Marine Corps, is a subordinate command of Marine Corps Systems Command. MCTSSA provides test and evaluation, engineering, and deployed technical support for Marine Corps and joint service command, control, computer, communications and intelligence systems throughout all acquisition life-cycle phases.