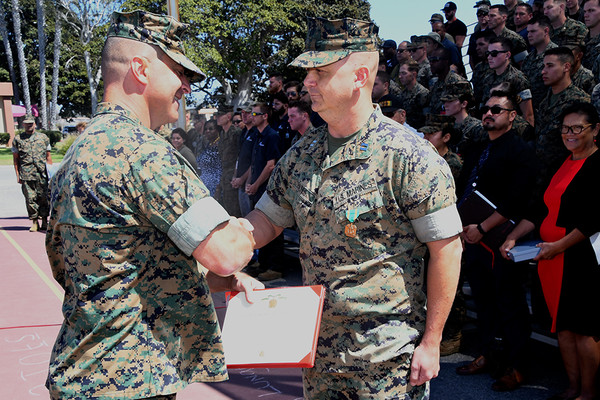 CAMP PENDLETON, Calif. —
A Marine Corps Tactical Systems Support Activity Marine was awarded the Navy and Marine Corps Achievement Medal Sept. 12, for live-saving actions he took to aid a car crash victim in August.
Capt. Michael Bates, a father of two and native of Carleton, Michigan, was recently on leave from his duty station at Camp Pendleton, California. He witnessed a vehicle crash while traveling along Highway 25 in Rocky Top, Tennessee, approximately 25 miles northwest of Knoxville, and was first on the scene to render aid.
"The driver was unconscious and gasping for air," said Kim Haase, an eye-witness to the accident. "Captain Bates held the driver's head while applying a towel to his head gash to keep the driver from bleeding out."
Bates, who has served more than 20 years in the U.S. Marine Corps and is a combat veteran, said he relied on his Marine Corps training and gut instinct.
"I was doing my job as a United States Marine and as a decent human being," said Bates. "My experience in the military helped give me the confidence needed to react in a high-stress situation."
After doing what he could to stop the bleeding, Bates focused on keeping the victim alert.
"The man regained consciousness and wanted to move around, but Captain Bates kept him calm by continually talking to him," said Haase.
"I kept identifying myself as 'Captain Bates with the United States Marine Corps,' hoping he knew he'd be alright," said Bates. "This went on for about 15 minutes until paramedics arrived."
The victim was then rushed to a hospital for further medical care.
"It is so refreshing to see one of our nation's finest military personnel serving our community while on leave and off-duty," said Haase. "This Navy Mom thanks Captain Bates for serving our great country."
Bates was notified that the victim has since been released and is at home recuperating with family.
"It feels really good to know I helped this man out and potentially saved his life, but I don't feel like a hero," said Bates. "I acted as a good Samaritan and hope that others would do the same."
Brig. Gen. A.J. Pasagian, commander of Marine Corps Systems Command, presented the award to Bates and said this was yet another inspiring story of a Marine performing in the day to day.
"Captain Bates, with humility, did not mention this to his chain of command," said Pasagian, adding that it took the eye-witness reaching out to the Marine Corps to thank Bates, which led to his chain of command being notified.
Bates, who has served as the MCTSSA radar officer for the last year, said he intends to stay in the Marine Corps until they tell him he has to go.
MCTSSA is a subordinate command of Marine Corps Systems Command. MCTSSA provides test and evaluation, engineering, and deployed technical support for Marine Corps and joint service command, control, computer, communications and intelligence systems throughout all acquisition life-cycle phases.