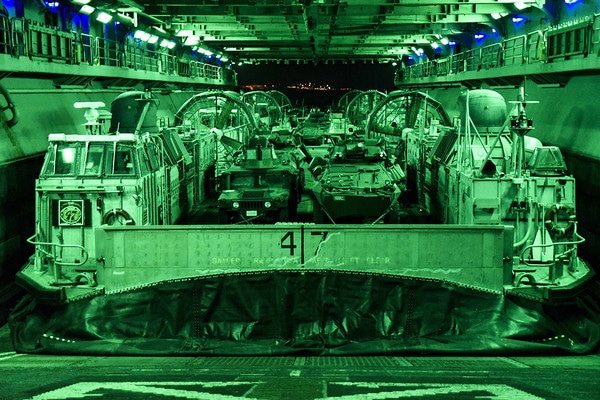 CAMP PENDLETON, Calif. —
Engineers and technical experts from Marine Corps Tactical Systems Support Activity conducted systems operability testing in January aboard the amphibious assault ship USS Wasp, flagship of the Wasp Amphibious Ready Group, in support of 31st Marine Expeditionary Unit operations in the Indo-Pacific region.
Amphibious warships must be able to sail in harm's way and provide a rapid buildup of combat power ashore in the face of opposition. This requires cyber-enabled network Marines to integrate shipboard systems, and provide combatant commanders real-time command and control capabilities.
"Having MCTSSA aboard proved to be an excellent experience," said U.S. Navy Lt. Blake Reynolds, Wasp communications officer. "They offered increased integration for ship-to-shore movement and proper communications between the Marine Corps and the Navy."
The 31st MEU, the Marine Corps' only continuously forward-deployed MEU, provides a flexible and lethal force ready to perform a wide range of military operations as the premier crisis response force in the Indo-Pacific region.
The primary objective for the MCTSSA team was to assist the 31st MEU in integrating tactical command, control, communications and computers—or C4—systems into the afloat environment.
"Integration continues to evolve as new C2 systems are fielded and old systems are upgraded," said U.S. Marine Corps Capt. Caleb Wu, MCTSSA naval systems integration officer. "As our proficiency and experience increase, we can troubleshoot more rapidly."
As the MCTSSA Navy Integration team continues to support various MEUs, it is also collecting valuable lessons learned that can be applied on subsequent MEU systems operability testing, said Wu.
"The capabilities between the Navy and Marine Corps communication suites were greatly enhanced by the experts who came aboard," said Reynolds.
In the end, ensuring Marines are capable of extending data services to distant sites through various systems specifically allowing for ship-to-tactical ashore data communications is crucial, said Wu.
"We truly appreciated [the integration] team's endeavors," said U.S. Marine Corps 1st Lt. Dakota Deter, 31st MEU communications platoon commander. "We are pressing forward and the Marines have conducted further testing, which would not have been possible without MCTSSA."
The MCTSSA team thought the testing event was a success as well.
"We were able to develop good working relationships with both the MEU and the ship's crew," said Wu. "The more bonds that MCTSSA builds with the operating forces, the greater our impact and the more desirable our services become."
For more news from USS Wasp, visit www.public.navy.mil/surfor/lhd1/.
For more news from 31st MEU, visit https://www.dvidshub.net/unit/31MEU.
MCTSSA, an elite, full-scale laboratory facility operated by the Marine Corps, is a subordinate command of Marine Corps Systems Command. MCTSSA provides test and evaluation, engineering, and deployed technical support for Marine Corps and joint service command, control, computer, communications and intelligence systems throughout all acquisition life-cycle phases.