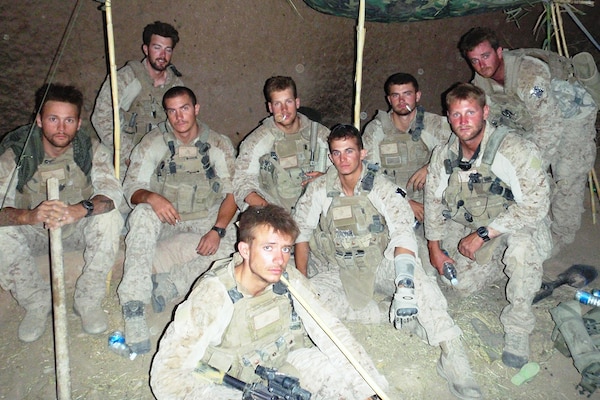 CAMP PENDLETON, CA —
Gunnery Sgt. Andrew Perryman harbors fond memories of his former platoon.
From June to November 2010, the 3rd Platoon, Force Reconnaissance Company, 1st Reconnaissance Battalion, 1st Marine Division—known as "LOWLIFE"—deployed a 23-man contingent to Afghanistan in support of Operation Enduring Freedom.
LOWLIFE was responsible for disrupting Taliban supply lines. During these operations, the team detained and wounded enemies, destroyed a homemade explosive manufacturing facility and eradicated an improvised explosive device production location.
"It was a cutthroat experience, for sure, but we bonded as a platoon," said Perryman, Dive project officer of Air and Amphibious Systems at Marine Corps Systems Command. "We were brothers then and still are to this day."
Perryman and much of the LOWLIFE team reunited May 16 at the 11th annual Reconnaissance Challenge, a 30-mile endurance course filled with myriad obstacles. Hauling at least 35 pounds of gear, the platoon hiked through mountainous terrain, swam 1,000 meters and engaged in other physical challenges aboard Camp Pendleton.
During the event, the team also carried one of its own.
Staff Sgt. Jonathon Blank is a former LOWLIFE member who lost both legs after an IED explosion in Afghanistan in October 2010. The blast also caused significant internal injuries and a compound fracture of the ulna, a bone that supports the forearm. For nearly four years, he rehabbed his injuries at Brooke Army Medical Center in Fort Sam Houston, Texas.
Since his medical retirement, Blank has remained an inspiration to his former comrades with his can-do attitude, tenacious desire to succeed and enthusiasm to motivate others.
In a symbolic gesture, the LOWLIFE team carried Blank in a large, backpack-like sack while traversing the course to honor comradery and brotherhood. Each platoon member pushed, pulled and lifted a 161-pound Blank for much of the event. When one person tired, another held the staff sergeant.
"It shows that Marines don't leave one another behind—and that's not just a metaphoric phrase," said Perryman. "We can endure that—we want to endure that—and we will not forget you."
The challenge comprised a series of trials designed to test the fundamentals of being a Reconnaissance Marine. Participants swam in an open ocean, dove into a deep pool to tie various rope knots and retrieve a large tractor tire, and fired guns at targets on a range. For nearly 12 hours, they completed numerous tasks while braving rigorous obstacles.
The most difficult aspect of the challenge involved managing consistent aches and pains, said Perryman. While carrying Blank, the Recon Marines experienced significant physical stress on their bodies.
"It was a painful experience, but the continuous camaraderie motivated the team beyond expectations," said Master Gunnery Sgt. Bryan Maass, former project officer of Kits at MCSC and LOWLIFE member.
The LOWLIFE team has been conditioned for laborious experiences. Their deployment in Afghanistan coincided with the Battle of Marjah—one of the most arduous times during Operation Enduring Freedom. The crew was tasked with clearing out Trek Nawa, just east of Marjah, despite the dangers the area presented.
The platoon was awarded 15 Purple Hearts, two Bronze Stars with Combat Valor, 12 Navy Commendation Medals with Combat Valor and eight Navy and Marine Corps Achievement Medals with Combat Valor.
"It was a rough deployment, an all-out brawl," said Maass. "But it was a brotherhood forged in fire."
The teamwork and perseverance displayed by LOWLIFE on the battlefield carried over into the Recon Challenge. Twelve members, including Blank, showed grit, determination and dedication in completing the obstacles.
Blank was not carried for the entire event. He competed when he could, and his performance inspired confidence in his teammates, said Maass. Blank swam 50 meters and completed various underwater tasks while donning cammies.
During the event's final 300 meters, Blank wore prosthetic legs and crossed the finish line himself while an emotional crowd roared in applause.
Perryman was not surprised by the dedication Blank demonstrated in completing the Recon Challenge. He witnessed Blank's strong perseverance in Afghanistan and after the staff sergeant sustained severe, life-threatening injuries.
"He's enduring," said Perryman. "And he's definitely a great Marine."
Maass marveled at Blank's strength and optimism not only in completing the Recon challenge—but also in life.
"Jon is incredibly motivating," said Maass. "Despite having some trials and tribulations, some ups and downs, he's stayed motivated."
LOWLIFE's participation in the event also served as a tribute to Gunnery Sgt. Johnathon Gifford, who was killed in action on July 29, 2012, while with 2nd Marine Special Operations Battalion. He was posthumously awarded the Navy Cross.
Both Maass, who participated in his sixth Recon Challenge, and Perryman found the course to be tough yet rewarding. It pushed their minds, bodies and technical skills to the limit. While experiencing bouts of exhaustion, teamwork and fortitude propelled them forward—as it did on the battlefield.
"This is as strong of a bond as I've had with a platoon," said Perryman. "There's something about the experiences you gain through pain with one another that unites you."