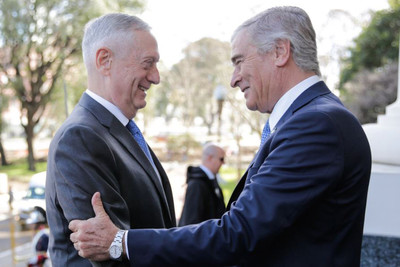 WASHINGTON, Aug. 16, 2018 —
Defense Secretary James N. Mattis met with top Argentine defense officials in Buenos Aires yesterday to reaffirm the long-standing defense relationship between the United States and Argentina, chief Pentagon spokesperson Dana W. White said.
Mattis, Defense Minister Oscar Aguad and Lt. Gen. Bari del Valle Sosa discussed a broad range of defense issues, White said in a statement summarizing the meeting.
Growing Leadership Role
The secretary thanked Argentina for its efforts regionally to denounce undemocratic actions, especially those in Venezuela and Nicaragua, White said.
"Secretary Mattis thanked the leaders for their country's growing leadership role on the global stage, illustrated by hosting the upcoming G20 Summit," she added.
The leaders agreed to continue their dialogue on global and regional defense issues in the future, White said.
Mattis visited Argentina as part of his first trip to South America since taking office. He had previously met with officials in Brazil, and also will visit Chile and Colombia in what Pentagon officials said is meant to underscore defense relationships that are critical to a collaborative, prosperous and secure Western Hemisphere.