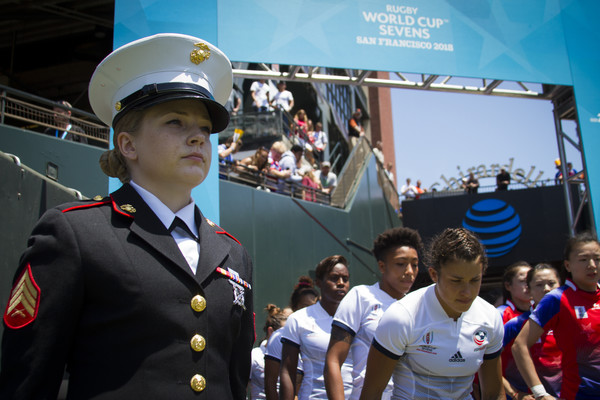 SAN FANCISCO, Calif. —
The U.S. Marine Corps partnered with USA Rugby for the 2018 Rugby World Cup Sevens at AT&T Park in San Francisco, California, July 20 – 22.
The Rugby World Cup Sevens is the premier stand-alone international rugby competition outside of the Olympic Games. Originating in 1993, the event evolved into what it is today, where 40 teams compete to win.
During the three-day event, Marines engaged the community through physical fitness challenges, meeting with USA Rugby affiliates and performing as part of the honor guard to welcome players onto the pitch.
"Rugby is the ultimate team sport that has a position for every shape and form," said Ross Young, the chief executive officer of USA Rugby. "The dynamism, the athleticism, and the combative type of sport that it is really hits with the American culture."
As Marines attended the world cup reception July 19, notable rugby players and influencers, like Young, spoke about the characteristics Marines and rugby players have in common.
"The Marine Corps has recognized that rugby players can and will make very amazing Marines," Col. Terry Johnson, the commanding officer of 12th Marine Corps District said. "We share values and common attributes: self-discipline, courage, the honorable pursuit of victory, extraordinary fitness, mental and physical toughness, and really just the grit to persevere in the face of adversity."
Young agreed and added that the Marine Corps' core values are what rugby teams embody.
The matches were knock-out style, so rugby players were on the pitch for 14 minutes of sudden-death play.
Sgt. Nichole Stoehrer, a marketing and communication Marine, and Sgt. Denis Ombasa, a recruiter, both from Recruiting Station San Francisco, were ambassadors of the values shared between the organizations. They stood at attention before the field entrance to honor the world-class athletes stepping onto the pitch.
"All the fans around us were chanting 'U-S-A' really loudly," Stoehrer said. "It was a rush of adrenaline to be there. It also gave [the Marine Corps] a chance to get out there and show that we're there supporting the city and the country."
As the event moved forward, Marines met with USA Rugby players, coaches and staff to strengthen connections with America's youth and their influencers during the tournament. Marine recruiters also participated in USA Rugby's Impact Beyond program, where they led the rugby community in workout sessions.
"Strategic partnerships are hugely important with the right type of organizations that share the same type of values, and association with the Marine Corps is exactly that," Young said. "It's about working together, raising awareness, equality and diversity."
Marine Corps Recruiting Command first announced the partnership earlier this year in January during the USA Rugby 2018 National Development Summit in Denver.
"The Marine Corps is very excited about our partnership with USA Rugby, not only because of our shared ethos, but because we look at it as a journey of shared inspiration and shared education," Johnson said. "At the end of the day, it's about establishing an enduring relationship with rugby and the rugby community, to not only celebrate our shared ethos, but to inspire the idea to serve in the Marine Corps as a viable option."