This report originally publishes at marines.mil.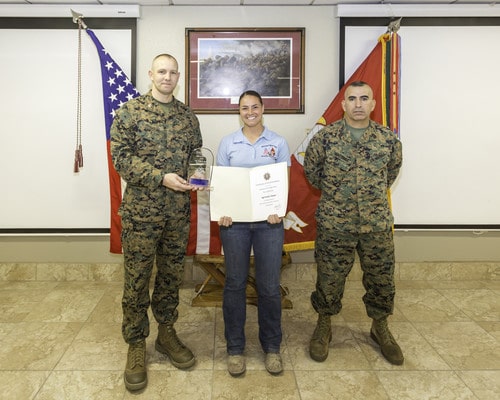 MARINE CORPS LOGISTICS BASE BARSTAOW, Calif. —
Sergeant Emily Rowe is the 2018 Noncommissioned Officer of the Year for Marine Corps Logistics Base Barstow, California.
Rowe, a stableman for the Marine Corps Mounted Color Guard, was also NCO of the Quarter twice in 2018.
The Billings, Montana, native was presented a certificate acknowledging her selection as the NCO of the Year during the Quarterly Awards Breakfast Jan. 29, at the Major General James L. Day Conference Center aboard MCLB Barstow.
She also was presented plaques and gifts by William Ponder, commander of the Veterans of Foreign Wars post 12039 and Stacey McCray, the manager of Frontwave Credit Union.
The military occupational specialty-trained flight equipment technician sought the job of stableman because of her lifelong familiarity with horses. Usually, Marines are assigned to the Mounted Color Guard, regardless of their riding ability or MOS.
"The Color Guard has been mostly what I expected when I joined, but there are some aspects I didn't expect," the sergeant said. "Having to learn the Color Guard's way of riding was something that didn't occur to me, but the MCG has also made me a better rider."
"I like meeting the people who attend our events," Rowe said. "Being around the horses makes most people more relaxed, especially the children."
Rowe has enjoyed her tenure with the last remaining MCG in the Marine Corps, visiting 10 states and performing in more than 100 events during her tenure.
She has learned about leadership as well when dealing with the Marines assigned to the Color Guard.
"The people I work with are motivated to do a good job," Rowe said. "There may be some coming to the unit who think 'I get to ride around all day on horses,' but that's just actually a small part of the job. There is a lot of preparation and just plain chores that have to be done before you ever even get in the saddle. If you don't think you can handle it, then you're probably not going to be very happy here."
Rowe has some advice for someone undecided about doing a stint in the military.
"You really should take a couple of years of your life and do some public service to pay back what America has given you. It doesn't have to be the military, but if you do join you will gain skills and develop bonds with people that will stay with you the rest of your life."
U.S. Marine Corps (USMC) reports are created independently of American Military News (AMN) and are distributed by AMN in accordance with applicable guidelines and copyright guidance. Use of USMC and U.S. Department of Defense (DOD) reports do not imply endorsement of AMN. AMN is a privately owned media company and has no affiliation with USMC and the DOD.