This report originally publishes at marines.mil.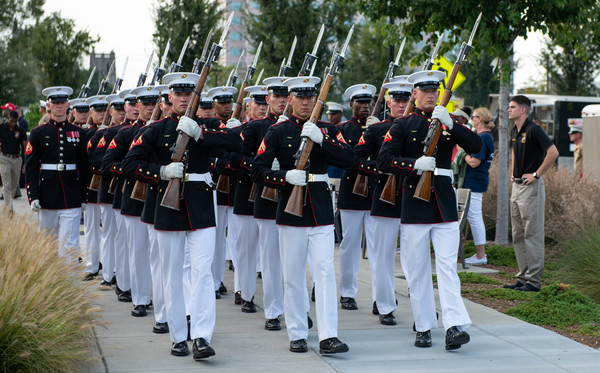 CHARLOTTE, North Carolina — Marine Week Charlotte kicked off with an opening ceremony at First Ward Park, Sept. 5, 2018. The ceremony welcomed the Marines to the city for the week, where they will demonstrate the capabilities of the Marine Corps and interact with the public, through more than 75 events.
The city of Charlotte is hosting nearly 800 Marines with the Special Purpose Marine Air-Ground Task Force – Charlotte, a collection of Marine units from North Carolina, Washington D.C., South Carolina, Maryland, and California. Upcoming event include: various static displays, opportunities for the community to engage in physical fitness with Marines, performances from the Silent Drill Platoon, and culminates with a MAGTF Show at the Charlotte Motor Speedway on Sept. 8, 2018.
SPMAGTF-Charlotte includes Marines from all over the country, representing a variety of specialties, for example: aviators, infantry, communications, intelligence and legal. The diversity of Marines demonstrates multiple aspects of the Marine Corps and the variety of missions they tackle on a daily basis.
"When we talk about Marine Week, we talk about "community, country and Corps,"' said Lt. Gen. Lori Reynolds, Deputy Commandant of Information, Commander Marine Corps Forces Strategic Command. "Those three are intertwined: The Marine Corps exists to serve our country, but our country, and our Marine Corps, are made up of communities like Charlotte."
Marine Week Charlotte will conclude September 9, 2018. For more information visit: www.usmarineweek.com.
U.S. Marine Corps (USMC) reports are created independently of American Military News (AMN) and are distributed by AMN in accordance with applicable guidelines and copyright guidance. Use of USMC and U.S. Department of Defense (DOD) reports do not imply endorsement of AMN. AMN is a privately owned media company and has no affiliation with USMC and the DOD.