This report originally publishes at marines.mil.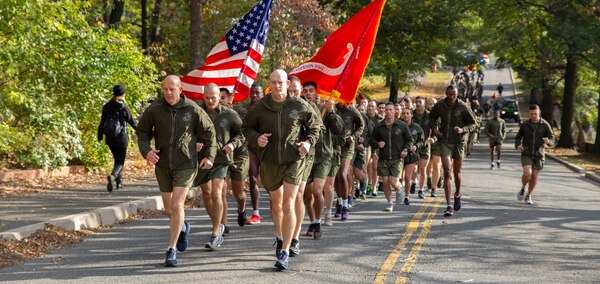 ARLINGTON, VA —
Commandant of the Marine Corps Gen. David H. Berger and Sergeant Major of the Marine Corps Troy E. Black led a motivational run on Joint Base Myer-Henderson Hall, Nov. 5. The run was held in celebration of the Marine Corps' upcoming 244th birthday.
The Marines ran from Joint Base Myer-Henderson Hall to the Marine Corps War Memorial where Berger and Black shared some motivation with the Marines.
"For 244 years, we have dominated, we have won, we have been victorious, and we will continue to be in the future against all of our enemies because we are who? The Marine Corps." Sergeant Major Troy E. Black, Sergeant Major of the Marine Corps
The run began a week of celebration leading up to the birthday on Sunday.
"Having one day to celebrate the birthday is not good enough," said the commandant. "We have to have a whole week."
191105-M-UN760-0048
Photo by Lance Cpl. Morgan Burgess
Berger then asked Marines to do three things this week. First, to stop and remember all those that have come before them. Second, to celebrate with their Marine Corps family. Finally, to look ahead at where they are going, because the Corps exists to fight and to win.
After the run, there was a moment of silence to honor all those who are forward deployed and all those that have come before them, as well as one final loud war cry that echoed across the base.
More Media
U.S. Marine Corps (USMC) reports are created independently of American Military News (AMN) and are distributed by AMN in accordance with applicable guidelines and copyright guidance. Use of USMC and U.S. Department of Defense (DOD) reports do not imply endorsement of AMN. AMN is a privately owned media company and has no affiliation with USMC and the DOD.