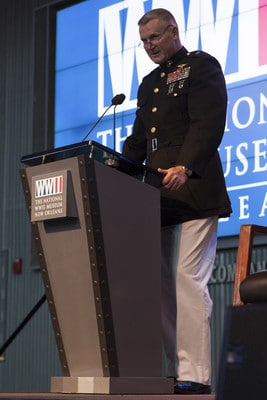 NEW ORLEANS —
A birthday celebration was held at the National World War II Museum in New Orleans on Oct 2, 2018 for retired Chief Warrant Officer 4 Hershel "Woody" Williams, the last surviving Medal of Honor recipient from the Battle of Iwo Jima. A man with bright eyes and heartwarming laughter, 95 years old never looked so youthful.
Williams watched as his brothers were drafted into the U.S. Army and decided he wanted to become a U.S. Marine. He enlisted in the Marine Corps Reserve in 1943 and retired after approximately 17 years of service.
"I joined the Marine Corps primarily because I knew nothing about the Marine Corps," Williams said. "I was totally uneducated about the armed forces. The Marines were always very sharp, neat, polite, treated women very respectfully, and it caught my eye."
Williams joined the Corps with the ambition to protect the country he called home. Little did he know, he would end up on enemy territory fighting for the freedom he loved so dearly.
"I thought that we would stay right here in the United States of America to protect our country and our freedom, so nobody could take this country away from us," Williams said. "In boot camp, I was being trained by individuals who had been in combat. They were teaching us that if we were going to win, if we were going to survive, we had to fight a war."
A boy from West Virginia working on a farm, Williams underwent the same honorable transformation endured by those before him and those after him; becoming a U.S. Marine headed overseas to enemy territory to defend his country.
"In boot camp, a person's life completely changes," Williams said. "From the time they arrive to the time they graduate, they become a new person. There is a spirit created within us that I cannot explain. It makes you so proud to be a Marine."
Every Marine a rifleman, Williams had another asset that made him valuable to the Marine Corps and the war effort. He was selected to carry and use a flamethrower during World War II.
"Naturally, we were all trained to be a rifleman first," Williams said. "I was selected to be in a special weapons unit with a demolition flamethrower. Flamethrowers were being used a lot in the Pacific because of caves, and on Iwo Jima there were many reinforced concrete pillboxes that bazookas, artillery, and mortars couldn't affect."
Little did he know, his actions with that flamethrower would earn him the Medal of Honor on Oct. 5, 1945 for his heroic actions during the Battle of Iwo Jima.
"At that point in time, I did not understand what I was receiving," Williams said. "I had never heard of the Medal of Honor. I didn't even know such a thing existed. As far as I was concerned, I was just doing what I was trained to do at Iwo Jima. That was my job. It wasn't anything special."
After receiving the Medal of Honor at the White House in Washington, D.C., Williams was called upon to speak to the 18th Commandant of the Marine Corps, General Alexander Archer Vandegrift. A conversation of a lifetime, something very specific stuck with Williams despite the fear of speaking to a man known to never crack a smile.
"When the commandant spoke to me, much of what he said I do not recall because I was too scared," Williams said as he laughed. "One of the things he did say that registered and has never escaped me is 'that medal does not belong to you. It belongs to all of those Marines that never got to come home. Don't ever do anything that would tarnish that medal.' I remember those words very well."
Williams joined the Marine Corps with a pure heart, dedicated to perform his duty to his country. Those duties ended up being significant enough to earn himself the Medal of Honor. A hero in the eyes of many, when he looks in the mirror he sees a man who was simply doing his job and caring for the fellow Marines around him.
With the distant gaze of a mind recalling nostalgic memories, "We were just Marines looking out for each other," Williams said.