This report originally published at southcom.mil.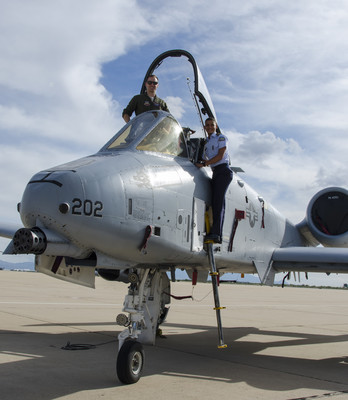 Nov. 1, 2018 —
DAVIS-MONTHAN AIR FORCE BASE, Ariz. — Twelfth Air Force (Air Forces Southern) hosted the annual Latin American Cadet Initiative, Oct. 30.
Twenty-two cadets from 11 Latin American nations participated in the initiative that has been sponsored by the Office of the Secretary of the Air Force for International Affairs program since 2006.
The cadets toured 12th Air Force (Air Forces Southern) headquarters, the System of Cooperation Among the American Air Forces headquarters, and the 309th Aerospace Maintenance and Regeneration Group. The cadets also traveled to the flightline for a static display and informational tour of an A-10 Thunderbolt II, a C-130 Hercules and a HH-60 Pave-Hawk.
The program invites the top two senior cadets from up to 15 Latin American Air Force academies to the U.S. for a three to four week visit.
The Latin American cadets hailed from: Argentina, Brazil, Chile, Colombia, Dominican Republic, Ecuador, El Salvador, Honduras, Mexico, Paraguay and Peru.
"This (event) affords the future leaders of Latin American Air Forces to opportunity to meet other future leaders as well as recognize that the United States feels that they are important," said U.S. Lt. Col. Gary B. Symon, Secretary of the Air Force for International Affairs Latin American desk officer. "We want to work with them as fellow Air Forces."
This engagement is part of 12th Air Force's (Air Forces Southern) enduring partnership with the Latin American Air Forces and reflects the United States' enduring promise of friendship, partnership, and solidarity with the Americas.
U.S. Southern Command (SOUTHCOM) reports are created independently of American Military News (AMN) and are distributed by AMN in accordance with applicable guidelines and copyright guidance. Use of SOUTHCOM and U.S. Department of Defense (DOD) reports do not imply endorsement of AMN. AMN is a privately owned media company and has no affiliation with SOUTHCOM and the DOD.