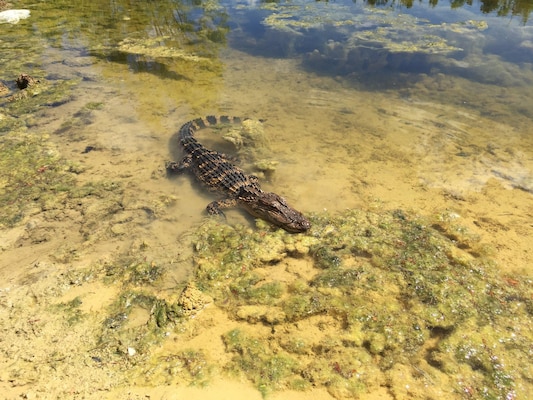 North Carolina —
About 4,000 permits are issued annually to authorized patrons for hunting, fishing, trapping, cutting firewood and utilization of the boat launches on Marine Corps Installations East-Marine Corps Base Camp Lejeune. One section that falls under the Environmental Conservation Branch is the Land and Wildlife Resources Section, which manages all game and non-game wildlife populations, with the exception of threatened and endangered species.
LWRS has four areas of wildlife management that include non-game species, game species, human and wildlife conflict management and outreach. Of the four sections of wildlife management, the non-game species and game species section conducts surveys to monitor and ensure healthy game animal populations.
The forest management that occurs on Camp Lejeune provides the type of habitat that is attractive to many different species. Emily Gaydos, a wildlife biologist and LWRS Program Manager for ECON
"Some of those habitats belong to species that are considered to be of concern or at risk."
The type of equipment that is needed to conduct a survey varies with the specific species that is being monitored. Specialized equipment may include binoculars, nets, traps and spotting scopes.
"Each survey is unique," Gaydos said. "You have to be familiar with the area you plan to survey, have appropriate datasheets to collect needed information and sometimes specialized equipment."
Weather conditions can affect the results of a survey due to many factors. Rainfall and extreme temperatures can affect how active the species is, as well as whether or not the survey can be conducted.
"We are currently trapping and banding mourning doves," Gaydos said. "[We provide this information] to the U.S. Fish and Wildlife Service, which helps to set dove hunting bag limits."
The information that is gathered by LWRS is often used by base natural resource managers to assist with military training plans. The information is also used to assist other state or federal natural resource agencies.
"We have a responsibility to monitor the populations of these species in order to ensure we can continue to provide appropriate habitats," Gaydos said. "[This helps with] supporting the training mission of the installation."
Gaydos or another wildlife technician will usually conduct these surveys. When additional assistance is needed, employees from other ECON sections like Threatened and Endangered Species, Forest Management and Protection and Conservation Law Enforcement will help wherever needed along with interns through the Student Conservation Association.
190809-M-RI256-0002
Photo by Lance Cpl. Miranda DeKorte
"The Marine Corps and MCB Camp Lejeune has partnered with the SCA for many years," Gaydos said. "[This provides] interns with valuable experience in the natural resources field."
Those that are chosen through the SCA are given one year appointments to gain exposure to different aspects of natural resource management by assisting LWRS and the other sections of ECON. Where most interns will go on to seek out other internships, state or federal agency employment or completion, a few will start their career here at Camp Lejeune.
"Over the years, a few interns have been hired into vacant employee positions within our department," Gaydos said. "One recent case is an intern who was hired into a vacant wildlife technician position within the Threatened and Endangered Species section."
Along with managing over 200 acres of wildlife clearings, the Human and Wildlife Conflict Management section of LWRS will respond to potential distress issues with wildlife.
"In most cases, these situations can be resolved by providing information to the caller and some tips on how to coexist with wildlife," Gaydos said. "We provide informational pamphlets about various wildlife species, facilitate informational workshops and participate in base safety fairs and school events."
It will always be important to coexist with wildlife and to follow all hunting, fishing and trapping regulations in order for LWRS to properly manage a healthy game population for recreation and maintain the ability to train Marines for every fight.
For more information about the internship program aboard Camp Lejeune, visit the Student Conservation Association website at www.thesca.org.
For more information about the Conservation Law Enforcement aboard Camp Lejeune, visit www.lejeune.marines.mil.