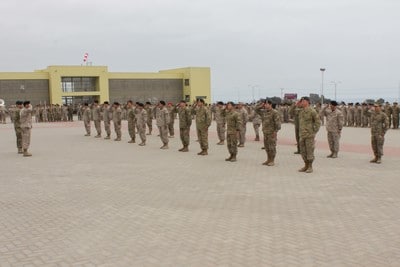 Sept. 7, 2018 — ANTOFAGASTA, Chile – Under cloudy skies and a chilly temperature, the closing ceremony for Southern Star, also known as "Estrella Austral" in Spanish, was held in Cerro Moreno, Antofagasta, Chile, Aug. 30, 2018.
The Chilean-led exercise is a bilateral, operational-level joint staff training focused on enhancing mutual capabilities and increasing interoperability that was conducted between Aug. 20 through Aug. 29, 2018.
Chilean armed forces were tested throughout the exercise with simulated scenarios for planning, execution, support, and command and control procedures in a combined and joint environment at the operational and tactical level while the U.S. forces observed and assisted in the planning throughout.
U.S. Army Col. Rafael Rodriguez, the operations director for Special Operations Command South, thanked Chile during the closing ceremony.
"We share the same values and interests. Our countries are united in a natural way and that was demonstrated in the last two weeks," said Rodriguez. "Chile is an important partner for the United States."
The Commander of the Joint Special Operations Task Force of the exercise, Brig. Gen. Pablo Muller Barbería, said during the ceremony that since its inception the Southern Star Exercise has evolved to become a joint international combined training that has its counterpart in the U.S. in the Northern Star exercise.
"The purpose of this 2018 version was to consolidate a joint and combined work of military aviation special operations with national, the United States and friendly countries, executing in a first phase prior to the exercise combined-joint training and exchange of experts that allow to standardize procedures, techniques, update combat tactics and increase interoperability between forces, "Muller explained.
Southern Star first started in 2007 with the U.S. Army in the lead. From 2009 onwards, the Estado Mayor Conjunto (EMCO), Joint Chiefs of Staff in English, has taken the lead and provided the coordination.
"The government of the United States and Chile have a strong relationship," said Col. Brian Greata, deputy commander for SOCSOUTH. "This exercise demonstrates that the Special Forces of Chile are committed to regional security and cooperation."
The next exercise is Northern Star that will be held in a location yet to be determined in the U.S. followed by Southern Star in Chile again in 2020.