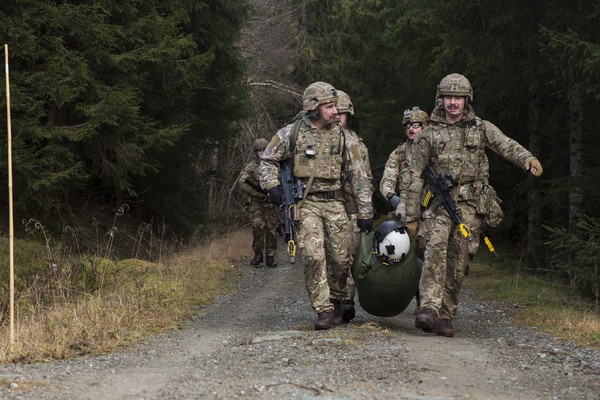 RINDAL, Norway — British Royal Marines exercised their Tactical Recovery of Aircraft and Personnel proficiency in Rindal, Norway November 6, 2018, during Exercise Trident Juncture 18. The Royal Marines with X-Ray Company, 45 Commando, worked in conjunction with the 24th Marine Expeditionary Unit and assets from Marine Aircraft Group 29.
U.S. Marine Capt. Josef Otmar and U.S. Marine 1st Lt. Zachary Duncavage served as isolated personnel during the exercise. Approximately 30 Royal Marines loaded into two U.S Marine Corps CH-53E Super Stallion helicopters from Marine Heavy Helicopter Squadron 366 after the 24th MEU prepared to execute the TRAP mission.
Prior to the Royal Marines' insertion into the landing zone, a UH-1Y Venom helicopter patrolled the area from the sky, searching for notional enemy combatants. The CH-53Es arrived shortly thereafter and delivered the Royal Marines who were met by members of the Norwegian Home Guard, who were role-playing as the opposing forces.
"It's been very positive working with U.S. Marines," said British Lt. Tom Williams, a troop commander with X-Ray Company. "The interoperability has been very effective and we have been able to do a lot of planning with them on a tactical level as well as at a higher headquarters level."
The Royal Marines were able to maneuver on the enemy location and recover the first isolated U.S. Marine simultaneously.
"It was impressive to watch the Royal Marines operate and how quickly they recovered the [U.S. Marines] while suppressing the enemy," said U.S. Marine Capt. Jacob Yeager, a member of the 24th MEU who was embedded with the Royal Marines. "The fact that we were able to integrate them with Marine Corps aviation is a great training value for both of our forces. U.S. Marine Corps aircraft delivered U.K. Royal Marines into a landing zone to recover two isolated U.S. Marines. That's significant."
After the first U.S. Marine was safely evacuated from the landing zone, the Royal Marines began to search for the second U.S. Marine which led them through approximately 500 meters of the steep, dense Norwegian forest.
Once the Royal Marines were prepared to evacuate the second U.S. Marine, the notional enemy attacked from the tree line. Combined capabilities were on full display at this point, as the Royal Marines maneuvered on the enemy and Yeager called for close-air support, which was delivered by the UH-1Y Venom with Marine Light Attack Helicopter Squadron 269. The effective enemy suppression allowed the Royal Marines to deliver the U.S. Marine safely to the awaiting CH-53E.
"Forty Five Commando has spent time on the USS Iwo Jima and Royal Marines and U.S. Marines shared their unique traditions and fighting capabilities with each other," said Williams. "This training will aid in future interoperability going forward."