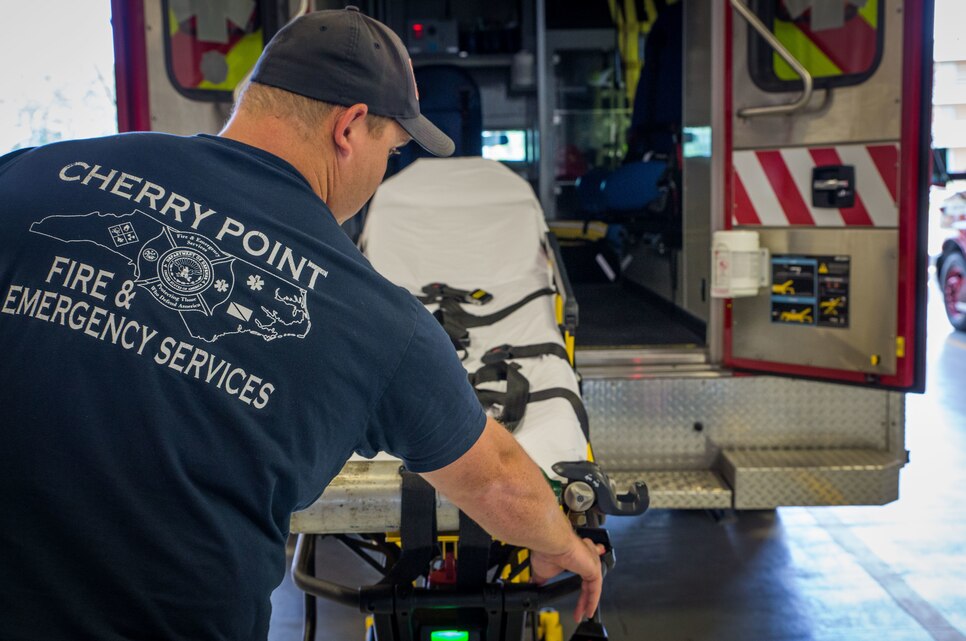 MCAS CHERRY POINT, N.C. —
On an average day, people don't typically think about the worst happening at any moment, but then a sudden pain fills your chest, a family member has an asthmatic episode, or maybe someone close to you begins to have an allergic reaction. After a call to 911, Emergency Medical Services' job begins.
At Marine Corps Air Station Cherry Point, North Carolina, our Cherry Point Fire & Emergency Services are at the ready. They provide fire emergency services and have firefighters who are Emergency Medical Technician basic certified and paramedics available on every call to assist military personnel, dependents, civilian employees and residents on the installation. They also provide mutual aid to outside emergency response units for medical emergencies, working side-by-side with their local counterparts.
"We're the same as all the other firefighters at [CPF&ES]," said Dale Askew, a paramedic with CPF&ES. "We have to do the same jobs they do, plus we specialize in the human body."
Paramedics working on the installation at CPF&ES need to have all of the same qualifications as the average firefighter, such as being certified as firefighter/hazmat technicians, but they also need to have the extra qualification of nationally or state certified paramedic.
So unlike the firefighters who completed the EMT basic course which takes 3-11 weeks, paramedics went through 18 months of classes and on-hands training courses to receive their paramedic certification. During this time they become as familiar as possible with the human body and become fully certified in emergency patient care. One member of the CPF&ES team even took a step further. Roxanne Best, a paramedic with CPF&ES, dedicated herself to gaining as much knowledge as possible to help serve her community and earned an Associate's in Applied Science.
"There's a lot as far as what we do. The most important is taking care of people." Roxanne Best, a paramedic with CPF&ES
"I don't think that there's a time that we're not reading or studying or talking to each other about what we have learned," said Best. "I think if you ever stop learning about medicine then you need to get out of that business."
CPF&ES also has one advanced emergency medical technician who is an essential asset to the team and can use her extra knowledge to provide more advanced care to patients.
"The most important is taking care of the people first and foremost," said Best. "That's why we train and work so hard for the community that we serve."
With all of that extra knowledge, paramedics have more options in patient care by being able to use a variety of lifesaving tools, such as an electrocardiography (EKG). At the paramedic level, they receive a cardiology certification so they can read and interpret EKGs and make decisions based on what they see there. This means they are certified in advanced cardiac life support and received a certification in pediatric advanced life support, as well as pre-hospital travel life support and of course basic life support.
Having the full scope of advanced cardiac life support capabilities is a huge advantage when arriving on scene. It gives the paramedics freedom to administer life-saving drugs to the patient, the ability to intubate, and they can recognize through the EKG if someone is truly in cardiac arrest. It also helps the patient receive faster care when arriving to the hospital because the paramedic is able to call a special number that activates the cath lab and by-pass the emergency room entirely.
Ready To Help
Photo by Cpl. Micha Pierce
"Well, we have more tools in our box," said Askew. "What the EMT basics do is extremely important, the basic skills are the most important, we are just more of the medication administration and cardiology."
Thanks to the dual training, paramedics are still mainly used as firefighters by CPF&ES, but if there is a possible patient on scene at a call, their immediate responsibility is to tending to that patient or assisting other paramedics with patient care.
When CPF&ES paramedics are assigned to an ambulance however, their entire responsibility is to any possible patient and caring for those in our community who call them for assistance. They are also required to complete drug inventories, quality assurance checks, supply inventory, ensure medical supplies are calibrated, complete bio-med checks and much more.
Even though their plates are already full, paramedics still have to find the time for continued education classes on specific topics to keep their certifications up to date and to maintain their ability to provide the highest level of care possible. Askew and Best also take time out of their schedules to go and teach classes and pass on their knowledge to other paramedic hopefuls, EMT basics, and even nurses at the hospitals off base, showcasing everything they do out in the field and showing how it can be applied and done in the emergency room.
"There's a lot as far as what we do," said Best. "The most important is taking care of people."
With all that they do for us, some ways we can help them help us is by having a list of medication ready when they arrive. This helps the paramedics know more accurately what is going on so they can easily find the issue and treat whoever is having the medical emergency. Another way is to accurately provide your location, knowing where you are helps them help you by being able to arrive quickly at the right location and not miss one crucial minute in assisting a patient.
At CPF&ES the paramedics, EMT basics and other EMS personnel go above and beyond every day protecting and serving the MCAS Cherry Point community. Existing to give us all a better quality of life and in extreme cases, continue that life.
"I love what I do," said Askew. "I would not do anything else, never."