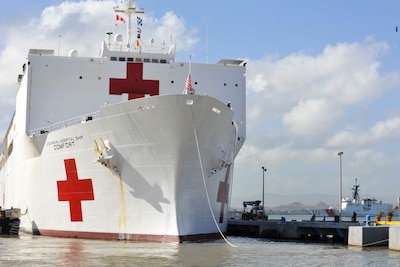 ---
MIAMI —
The Navy's Military Sealift Command hospital ship USNS Comfort will deploy to Central America and South America in late September to begin a two-month humanitarian mission with stops in Colombia and elsewhere in the region.
During the deployment, military medical personnel will work alongside partners to provide needed medical assistance according to the needs defined by each stop, officials said.
Colombia's government requested the support to relieve the pressure on the country's national health system caused by increased population flows from Venezuela.
"This mission is a symbol of what can be accomplished when partners work together to aid people in need," said Navy Adm. Kurt W. Tidd, commander of U.S. Southern Command, which will oversee the deployment. "Because this mission is humanitarian in nature, it will focus on the people we're assisting, on the nations we're partnering with, and on the region we're supporting together."
This marks the sixth hospital ship deployment to the region since 2007, and reflects the steadfast U.S. commitment of friendship and solidarity with the Americas, Southcom officials said.