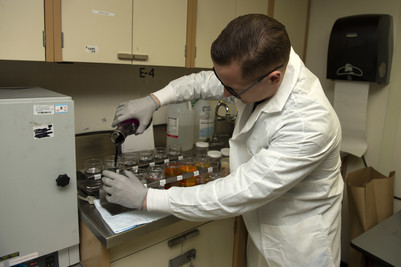 Oct. 22, 2018 —
PACIFIC OCEAN (Oct. 18, 2018) (NNS) — PACIFIC OCEAN (Oct. 18, 2018) – Beakers and jars line a lab table in a small room. The colored fluid in them sways from side to side as the ship gently rocks while at sea. A hospital corpsman takes a translucent, paper-thin skin sample from a machine and dips it in the liquid, where spots and circles appear, lightly colored by the substance they were put in.
Hospital Corpsman 3rd class Michael Murphy, embarked on the hospital ship USNS Comfort (T-AH 20), is one of only 22 histopathology technicians in the Navy.
"Histopathology technicians examine some of the most important specimens that come into a laboratory," said Murphy. "While most labs examine blood, urine and other fluids, histopathology technicians look and study dead and diseased tissue."
The technicians use samples of skin tissue to diagnose and treat various diseases.
"Any time someone has a tumor, cyst or even a mole, the doctor will biopsy the area and send it down to a histopathology lab," said Murphy. "We take that biopsy and analyze it for diseases or cancer."
During the analyzation, technicians dehydrate the sample of skin using different chemicals and wax to create a microscopic slide of skin.
"Without histopathology, it is very difficult to diagnose very serious diseases," said Murphy. "For things like tumor growth, breast cancer or appendicitis, histopathology is crucial in diagnosing those ailments."
Histopathology will help diagnose patients during Comfort's mission to Central and South America as part of its Enduring Promise initiative.
Comfort is on an 11-week medical support mission. Working with health and government partners in Ecuador, Peru, Colombia and Honduras, the embarked medical team will provide care on board and at land-based medical sites, helping to relieve pressure on national medical systems caused partly by an increase in cross-border migrants. The deployment reflects the United States' enduring promise of friendship, partnership and solidarity with the Americas.
For more information, visit www.facebook.com/NAVSOUS4THFLT, www.dvidshub.net/feature/comfort2018, and www.navy.mil.
Get more information about the Navy from US Navy facebook or twitter.
For more news from U.S. Naval Forces Southern Command & U.S. 4th Fleet, visit www.navy.mil/local/cusns/.