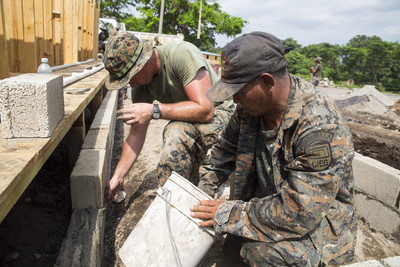 July 27, 2018 — Pyroclastic flow – it's a wall of hot ash, gas and volcanic matter created during a volcanic eruption that can get hotter than 1,800 degrees Fahrenheit, and can top out at speeds faster than 400 mph.
When Mount Vesuvius erupted in A.D. 79, it was a pyroclastic flow that killed thousands; many caught sleeping in their beds.
When Volcan de Fuego erupted in Guatemala in June, it created a pyroclastic flow that killed more than 100 and affected 1.7 million people.
The Guatemalan government exerted a herculean effort to treat thousands of wounded and evacuate thousands more. Once the immediate emergency had been dealt with, the government then turned to caring for those who had been displaced by the volcano's destruction.
Because of an engagement program with U.S. Southern Command, the Guatemalan military had conducted a volcano-related humanitarian assistance exercise earlier in the year. Once they had started recovery efforts, the government of Guatemala turned to that engagement program and SOUTHCOM for assistance in building temporary shelters in Escuintla, Guatemala, for those who lost their homes to Fuego.
U.S. Marines and sailors with Marine Detachment-Southern Partnership Station were deployed aboard the USS Gunston Hall (LSD 44), en route to support engineering projects as part of Special Purpose Marine Air-Ground Task Force – Southern Command in Central America. They received the order to support the Guatemalans, and in short order had flown from the ship to Guatemala City, Guatemala, to make their way to Escuintla. They have been working with the Guatemalan Army Corps of Engineers to build over 100 shelters since they arrived two weeks ago.
"Our mission is twofold," said U.S. Marine Capt. David Andrews, the officer in charge of MARDET. "First, it's to support the Guatemalans' efforts in the construction of the shelters for the displaced persons in the aftermath of the Volcan de Fuego eruption, and to add manpower and our capabilities to assist them in constructing the cantonment site as rapidly as possible. The second part of the mission is to help build partnerships with the host nation, to share resources and learn from each other."
In the two weeks they've been working in Escuintla, the Marines have integrated seamlessly with the Guatemalans. There isn't a single part of the humanitarian assistance project that hasn't been touched by service members from both countries.
"From day one, we showed up wanting to integrate our forces so that we could work side by side," said Andrews. "We haven't segregated ourselves as far as a Marine construction project versus a Guatemalan construction project. We're all in it together, working hand in hand to make sure we can get this site finished as quickly as possible."
The detachment is comprised almost entirely of reservists from units spread across the U.S. They run the gamut of military occupational specialties, from combat engineers and heavy equipment operators to water support and electrical systems technicians. The mission called for all of them to swing hammers, shovel dirt and mix cement by hand, so a lot of the Marines had to learn about construction on the fly.
"I've had learn everything about construction," said U.S. Marine Sgt. Tomas Hull, a heavy equipment operator with the MARDET. "We learned a little bit beforehand; we tried to do some reading to inform the other Marines with different MOSs. Pre-fab construction with wooden houses, concrete, drainage, plumbing, roofing – we really had to learn it all to get this mission completed."
Beyond the diverse MOSs the detachment brings to the table, each Marine and sailor brings the knowledge and experience they've acquired in their civilian life. Many of those experiences can be directly applied to the humanitarian project in Escuintla, according to Andrews.
"Reservists have extra skill sets that you wouldn't find in an active duty Marine," said Andrews. "That seriously augments our capabilities, because they already have that skill set that could arguably be more proficient than what the Marine Corps can provide. That just enhances our capabilities, and provides them with a little more maturity and experience from the civilian sector that they can apply to what we're doing here."
The Marines are following the lead of the Guatemalan soldiers, and using their methods and equipment to accomplish the mission. In the sweltering heat of the Guatemalan coast, they're mixing cement and digging ditches by hand. It's hard work, but the Marines enjoy the challenge.
"Human power is how we move anything around here, whether it's putting up walls or holding them up," said Hull. "It's really just the human spirit pushing these buildings together."
For their part, the Guatemalans are happy to have the extra hands to help with the heavy lifting. With the extra manpower the Marines provide, the time it takes to put a structure up has been cut in half.
"Having the Marines here means we've been able to get the project done much faster," said Guatemalan Army 2nd Lt. Juan Carlos Barillas Garcia, a project lead with the Guatemalan Army Corps of Engineers. "What we would normally do in three or four days, together we've been able to get done in a day and a half. They've helped us a lot with the carpentry, masonry and plumbing."
The Marines are also happy to be a part of the project, and have become fast friends with their Guatemalan counterparts. In typical fashion, patches, knives, uniform items and even military rations have traded hands between service members from both countries. But beyond just the camaraderie being built with new friends, the Marines recognize the positive impact their work in Escuintla will have on the people of Guatemala.
"I think we just remind ourselves that if this happened back in the states, you know to our families, if there were families out there without shelter or cover, that we'd want this done as fast and as best as possible to help those people," said Hull. "So I think a lot of us just put it into perspective of our own families, and those people in need; and however we can help them, we are happy to."