General Paul Xavier Kelley, 91, 28th commandant of the Marine Corps, was laid to rest Feb. 13, at Arlington National Cemetery. Kelley passed away Dec. 29, 2019, in McLean, Virginia.
General David H. Berger, 38th commandant of the Marine Corps, said Kelley's leadership, passion and courage drove people to follow him, regardless of the situation, as he was known as a Marine's Marine.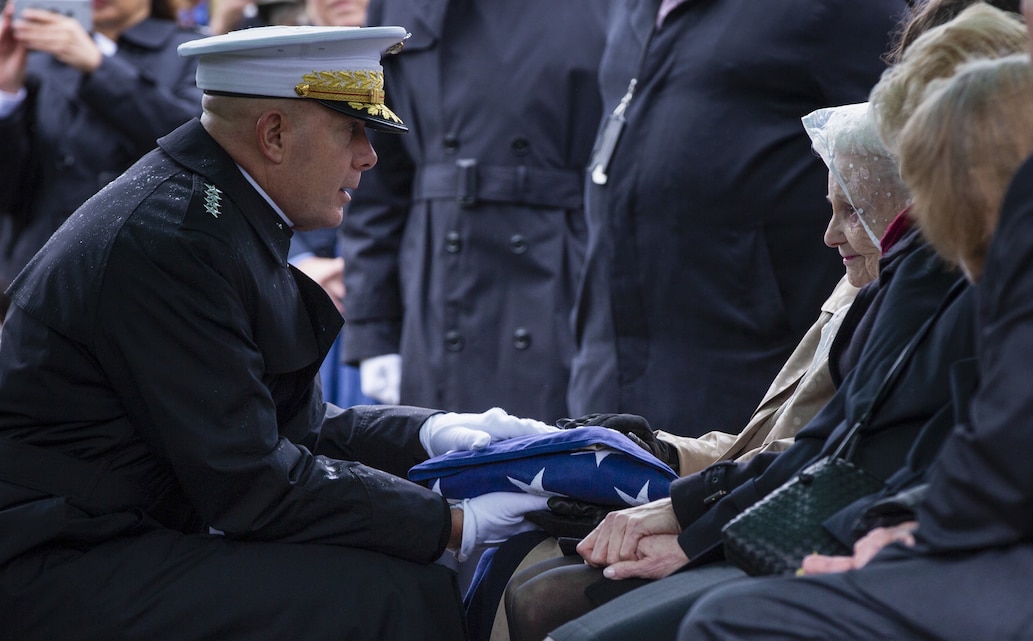 "His contributions to our Corps and leadership through a tumultuous period ensured that we have been ready when our nation needed us," said Berger. "Although his presence will be deeply missed, his legacy will serve as an inspiration to us all for years to come."
Kelley was born Nov. 11, 1928, in Boston, Massachusetts. After graduating from Villanova University with a Bachelor of Science degree in Economics in June 1950, Kelley commissioned as a Marine second lieutenant.
In March 1951, after completing instruction at The Basic School, Quantico, Virginia, he served consecutively as a platoon leader, assistant battalion operations officer and assistant division training officer with 2nd Marine Division at Camp Lejeune, North Carolina. He transferred to the cruiser USS Salem (CA 139) in September 1952 where he served as executive officer and then commanding officer of the Marine Detachment for 20 months. He was promoted to captain Dec. 16, 1953.
He transferred to Camp Pendleton, California, in July 1954, where he served as a battalion executive officer with 1st Infantry Training Regiment. He transferred to Japan in February 1955 and served as the division training officer for 3rd Marine Division. From August 1955 to June 1956, he served as the aide-de-camp to the deputy commanding general, and then as assistant force training officer, Fleet Marine Force Pacific, in Hawaii.
In July 1956, Kelley became the special assistant to the director of personnel at Headquarters Marine Corps, Washington, D.C. He completed Airborne Pathfinder School at Fort Benning, Georgia, in 1957. In February 1958, he was assigned to 2nd Force Reconnaissance Company, Fleet Marine Force, Atlantic, Camp Lejeune, where he served as executive officer and then commanding officer.
From September 1960 to May 1961, he was the Marine Corps exchange officer with the British Royal Marines. During this tour, he attended the Commando Course in England, served as assistant operations officer with 45 Commando in Aden and as commander, "C" Troop, 42 Commando in Singapore, Malaya, and Borneo. On March 1, 1961, he was promoted to major. He was assigned to Marine Corps Schools, in Quantico, Virginia, in July 1961, and served there as a tactics phase chief at The Basic School; and then reconnaissance and surveillance officer at the Marine Corps Landing Force Development Center.
In June 1964, he assumed duties as commanding officer, Marine Barracks, Newport, Rhode Island. From there, he transferred to Vietnam and reported as the 3rd Marine Amphibious Force combat intelligence officer. Following this assignment, he served as commanding officer, 2nd Battalion, 4th Marine Regiment in Vietnam. He was promoted to lieutenant colonel Jan. 20, 1966. During this tour as battalion commander, he earned the Silver Star, the Legion of Merit with combat distinguishing device and two awards of the Bronze Star with combat distinguishing device.
He attended the U.S. Army Infantry School at Fort Benning, where he served from August 1966 to July 1968 as the senior Marine Corps representative of the commandant of the Marine Corps. He then attended the Air War College at Maxwell Air Force Base, Alabama, where he graduated as a distinguished graduate in May 1969.
He returned to Headquarters Marine Corps in June 1969 as the military assistant to the assistant commandant of the Marine Corps. He was promoted to colonel April 1, 1970, and was assigned to Vietnam, where he commanded 1st Marine Regiment, 1st Marine Division. Kelley redeployed the regiment, the last Marine ground combat unit to leave Vietnam, to Camp Pendleton, in May 1971. During his second tour in Vietnam, he was awarded a second Legion of Merit with combat distinguishing device.
Reassigned to the Washington, D.C., area in July 1971, Kelley served as chief, Southeast Asia Branch, Plans and Policy Directorate, Organization of the Joint Chiefs of Staff, where he remained until November 1973, when he was assigned as the executive assistant to the director, Joint Staff.
Following Kelley's promotion to brigadier general Aug. 6, 1974, he was assigned as commanding general, 4th Marine Division. In June 1975, Kelley served as director for Development Center, Marine Corps Development and Education Command, at Quantico. He then assumed duties as director, Education Center and was promoted to major general June 29, 1976. In May 1978, he was ordered to become deputy chief of staff for Requirements and Programs at Headquarters Marine Corps. On Feb. 4, 1980, Kelley was promoted to lieutenant general and appointed by the president of the United States as the first commander of the Rapid Deployment Joint Task Force, which was renamed in January 1983 as United States Central Command (USCENTCOM), a four-service force with headquarters at MacDill Air Force Base in Tampa, Florida.
On July 1, 1981, Kelley became the youngest Marine to be promoted to general and assumed duties as assistant commandant of the Marine Corps and chief of staff.
He became commandant of the Marine Corps July 1, 1983. Within months, Gen. Kelley found himself leading the Marine Corps through the devastating aftermath of the barracks bombing in Beirut, Lebanon.
Retiring in 1987 after 37 years of distinguished service, Kelley joined the public policy firm Cassidy & Associates as vice chairman. He also became chairman of the American Battle Monuments Commission. He served under three presidents in this position and was responsible for the design and construction of the Korean War Veterans Memorial, as well as the legislation, construction and dedication of the World War II Memorial.
General Kelley is survived by his wife of 68 years, Barbara Kelley and his daughter, Chris Kelley Cimko.