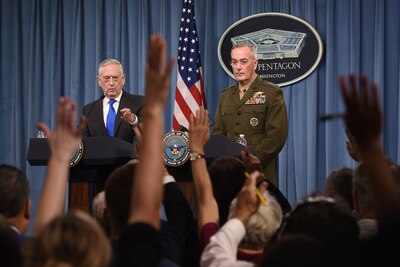 ---
WASHINGTON —
The United States and South Korea are lifting the suspension of military exercises on the Korean Peninsula, Defense Secretary James N. Mattis said today.
Mattis made the announcement at a Pentagon news conference with Marine Corps Gen. Joe Dunford, the chairman of the Joint Chiefs of Staff.
Following the summit between President Donald J. Trump and North Korea leader Kim Jong Un in Singapore, the U.S. and South Korea agreed to suspend several of the largest military exercises "as a good-faith measure," the secretary said.
Denuclearization Negotiations
Negotiations on denuclearization of the Korean Peninsula are on-going and within the realm of the State Department, the secretary said. "We will work very closely, as I said, with the secretary of state, and what he needs done we will certainly do to reinforce his effort," Mattis said. "But at this time, there is no discussion about further suspensions."
Smaller military exercises in South Korea continued even after the suspension of the larger exercises, the secretary said. "The reason you've not heard much about them is North Korea could not in any way misinterpret those as somehow breaking faith with the negotiation," the secretary said. "So the exercises continue. What it means in practical terms is that we're making no changes to the exercise program at this time."
Training Local Security Forces
The chairman addressed operations in Syria against the remnants of the Islamic State of Iraq and Syria.
"I think you know that there's one major area in the Middle Euphrates River Valley that still has a significant ISIS presence," Dunford said. "So in the near-term, working with our Syrian Democratic Forces, we're working to clear that one remaining area in the Euphrates River Valley."
The next step in the region is training local security forces necessary to stabilize those areas already been cleared of ISIS, the chairman said. "That is going to take some time to do that," he said.
Dunford said his will require funding for stabilization efforts and Secretary of State Mike Pompeo is engaging with regional nations to contribute to the funds to ensure basic services — water, electricity and economic structures — are established.
"That's distinct from reconstruction, which is a longer-term endeavor and we won't be ready to talk about reconstruction until there's a political solution," the general said.
Yemen is a concern, especially after reports of civilian casualties in the civil war there, the secretary said. "The reality is that that battlefield is a humanitarian field, and we recognize … the tragedy there," Mattis said. "That's why I emphasized that we are working with the U.N. special envoy to try and end this, to drive this to a U.N.-brokered negotiation."
The United States is doing all it can to "keep the human cost of innocents being killed accidentally to the absolute minimum," he said. "In Yemen, you know, as a general statement, we stay out of the war ourselves and we are focused on defeating ISIS and al-Qaida in the Arabian Peninsula. That's what we do where we conduct operations."
Patrols With Turkish Forces
Dunford said that joint patrols with Turkish forces will begin soon in Manbij, Syria. "About two months ago we began to work with the Turks on, more broadly, the security in northern Syria, focused on Manbij," he said. "There's two phases. One is independent patrols with coordination and communication between Turkish forces, U.S. and coalition forces. Second phase being combined patrols. We are now conducting the independent patrols with communication between the Turks, and we're still planning, with the Turks, for combined patrols."
There is more to combined patrols that just employing personnel from two separate militaries, Dunford said. "In order to do combined patrols, one, we need a command-and-control construct set up; we need joint training to be done in Turkey; and we need an agreement on rules of engagement and other details of combined patrolling, and that's ongoing," the chairman said.
Both Turkish and U.S. officials are satisfied to the pace of progress, he said.
Dunford also addressed the U.S. military presence in Afghanistan. America, he said, has permanent interests in South Asia — diplomatic interests and security interests. "We're going to maintain a presence to have influence in that region. … The form of that presence is going to change over time," the chairman said.
Dunford said the United States had well over 100,000 military personnel in Afghanistan a few years ago. Now there are around 14,000.
"So there will be a permanent diplomatic mission in Afghanistan," the chairman said. "There'll be permanent diplomatic presence across South Asia, but I certainly don't expect that the current forces that we have in Afghanistan represents an enduring large military commitment."
(Follow Jim Garamone on Twitter: @GaramoneDoDNews)