This report originally publishes at marines.mil.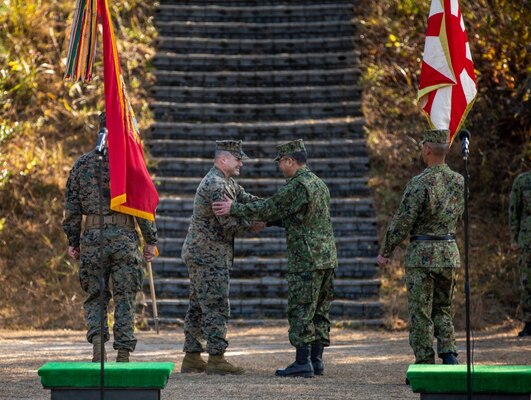 AIBANO TRAINING AREA, Japan —
U.S. Marines and Soldiers from Japan Ground Self-Defense Force will conduct training exercise Forest Light Middle Army at Aibano Training Area in the Shiga Prefecture of Japan from Dec. 1 to Dec. 13, 2019.
The forces will conduct a bilateral, combined arms exercise and live fire training in conjunction with
ground and aviation units. During this iteration, the combined force will focus on helicopter-borne operations, with a comprehensive final training event that will begin with an aerial insert from MV-22B Ospreys, and consist of multiple days of complex bilateral movements against an opposing force.
"When we train together like this, we develop the kind of proficiency that is required for two different units, from two different militaries, to come together and operate as one." Lt. Col. Clinton Cummings, the battalion commander of 1st Battalion, 25th Marine Regiment, Marine Forces Reserve
Approximately 275 U.S. Marines from 1st Battalion, 25th Marine Regiment, Marine Forces Reserve, currently assigned to 3d Marine Division as part of the Unit Deployment Program, and Marines from 1st Marine Aircraft Wing, will join their Japan Ground Self-Defense Force counterparts from the 8th Regiment, 13th Brigade, Middle Army. Their deployment validates the readiness and skill of the reserves to augment their active duty counterparts.
Forest Light is an annual training exercise that is designed to enhance the collective defense capabilities of the U.S. and Japan alliance by allowing infantry units to maintain their lethality and proficiency in infantry and combined arms tactics.
More Media
U.S. Marine Corps (USMC) reports are created independently of American Military News (AMN) and are distributed by AMN in accordance with applicable guidelines and copyright guidance. Use of USMC and U.S. Department of Defense (DOD) reports do not imply endorsement of AMN. AMN is a privately owned media company and has no affiliation with USMC and the DOD.