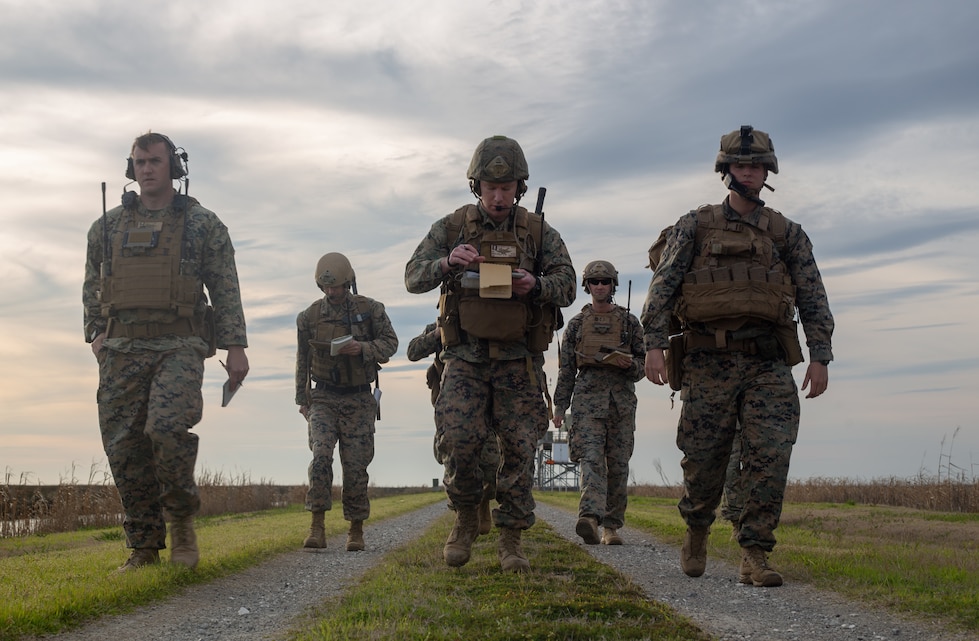 CHERRY POINT, N.C. —
On June 6, 1944 U.S. Army Soldiers participated in the largest amphibious landing ever conducted. By the end of the battle, allied troop casualties stood at over 200,000. Marines fighting in the Pacific took this as a learning opportunity and adapted a better manual for amphibious fighting.
The Marines of the World War II implemented a system of trained pilots and artillerymen to act as the sights and coordinators for supporting fire. Today, the Marine Corps has Tactical Air Control Party Marines to guide close air support on target and act as a link between attacks from the air, land, and sea to mitigate risk of friendly fire between supporting elements.
U.S. Marines with the II Marine Expeditionary Force TACP program participated in Exercise Fireball Eagle at Cherry Point, North Carolina, Feb. 4-6, 2020. This training event gives TACP Marines realistic fire coordination experience before the Weapons and Tactics Instructor course. WTI allows Marines to effectively utilize different supporting elements in the field.
"It's about preparing students going to Marine Aviation Weapons and Tactics Squadron 1 WTI courses. It shows them what they can expect to see at WTI as far as situations they will have to deal with there." Master Sgt. Edwin Burch, the assistant director for the TACP Program for 2nd Marine Division
During the exercise, TACP Marines were given situations and targets to coordinate fire support between mortars from 1st Battalion, 2nd Marine Regiment and MAWTS-1's UH-1 Venoms, AH-1 Vipers, and F/A-18 Hornets to provide notional infantry forces support.
"We are basically the liaison between the forces on the ground and the forces in the air," said Burch. "We give the ground forces the ability to bring in close air support."
Joint Forward Observers, enlisted Marines from artillery units, carry out the attack plans of Joint Terminal Attack Controllers alongside Forward Air Controllers, Marine Corps officers trained as pilots, who direct aircraft engaged in close air support. Graduates of the WTI course serve as squadron training officers who use their skills to act as subject matter experts on the methods of fire utilized by TACP Marines.
200205-M-UR958-1442
Photo by Lance Cpl. Brian Bolin Jr.
"This training really helps give TACP Marines the tools they need to be successful in their careers, especially at WTI," said Capt. Eric Nilsson, an AH-1Z Viper pilot and a Forward Air Controller. "It basically helps the ground guys translate to the pilots what they want as far as close air support."
Exercise Fireball Eagle gives 2nd Marine Division TACP Marines the experience to support units effectively in the field. The training that the Marines will receive at WTI will ensure the lethality of the TACP program and help strengthen the warfighting capabilities of 2nd Marine Division.