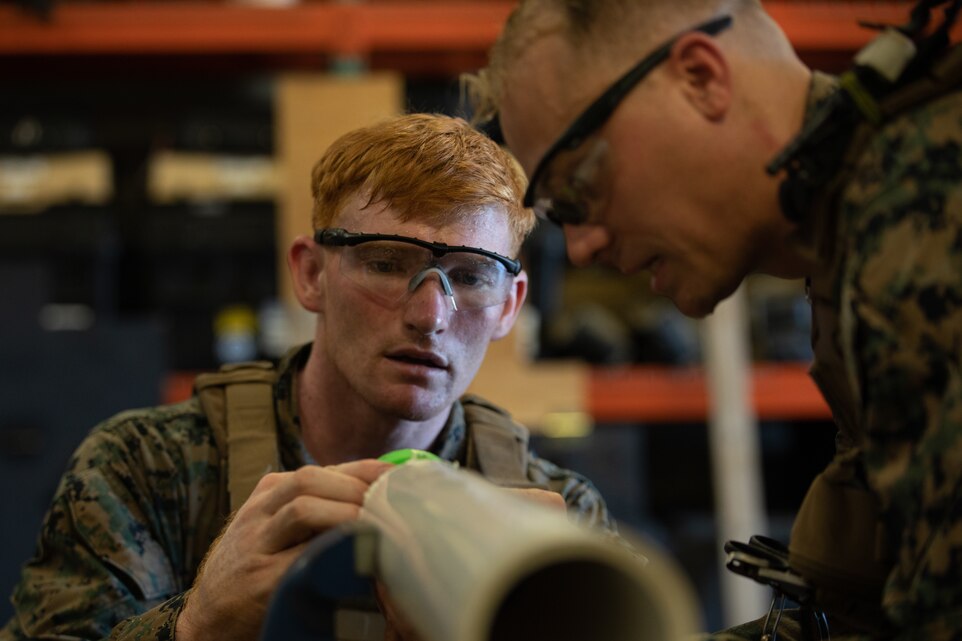 CAMP LEJEUNE, N.C. —
"A competition is not supposed to be easy, it's mentally and physically demanding, you can see it in their faces," said Reuter. "The biggest challenge for the Marines is being able to overcome all challenges."
Marines from various units participated in the 2nd annual EOD Team of the Year Competition at Camp Lejeune, North Carolina, July 20 – 25, 2020.
The EOD teams, composed of 2-3 Marines representing various East Coast commands, put their skills to the test through a rigorous series of events hoping to be the winning team.
Competitors accumulated points by participating in events such as a chemical, biological, radiological, and nuclear scenario, weapons of mass destruction identification, removal of lodged 155mm/105mm projectiles, and a culminating eight-mile "ruck run" to a small arms live-fire range.
"Ultimately, the Marines from each EOD command are learning different methods of approach and tactics from each other, all the while maintaining that fighting spirit." Capt. James Otto, officer in charge of MCB Quantico EOD
One of the highlights was the relay event where Marines doned the new EOD Advanced Bomb Suit. According to Marine Corps Systems Command, this suit protects against severe injuries caused by blast overpressure, shrapnel, heat and impacts. It also comprises an elaborate integrated ventilation system to reduce heat stress and improve breathing.
The Marine Corps EOD mission is to support the Marine air ground task force, supporting establishment, homeland defense, special operations forces, and other government agencies by detecting and locating, accessing, diagnosing, rendering safe and neutralizing, recovering, exploiting and disposing of hazards from foreign and domestic, unexploded explosive ordnance, improvised explosive device, and weapons of mass destruction that present a threat to operations, installations, personnel, or materiel, according to the EOD Program order.
"This competition is a great way to ensure that the Marines who participate are being trained to the standards needed in order to be an EOD technician," said Sgt. Kenneth Bourgeois, an EOD technician with 8th Engineer Support Battalion. "Being able to evaluate the Marines on their proficiencies also allows me to see how I would operate if I was in the same scenario as they are."
Chemical Ordinance
Photo by Lance Cpl. Fatima Villatoro
Although winning was the ultimate goal for all, for one team it was also an opportunity to reconnect and build upon their bond. Sgt. Philip Gilbert and Sgt. John McNamara, the 8th ESB team, met approximately three years ago while attending their military occupation specialty school at Eglin Air Force Base, Florida.
"This is actually the first time that we have been able to do something like this together," said Gilbert. "We get to learn how to operate as a team, keep each other sane, and he helps me guarantee that we have the best tactics and approaches to each scenario."
The team competed in weather conditions notoriously known in North Carolina; humidity and heat reaching the high 90's. They continued to work through the heat, allowing them to stay in the competition and building up their camaraderie and confidence in one another. Being able to understand each other's limitations was a key takeaway for them.
"After working with each other for a few days, you're able to read each other and notice if we're not performing to the best of our abilities or if something is wrong. It comes down to looking out for one another," said McNamara.
At the end, the Marine Corps Special Operations Command team took home the title by beating the other five teams and accumulating an overall score of 933 points; 17 points over the runner up team. All teams finished the competition in the time allotted, some faster than others, but the driving force among the EOD community was the competitive spirit, and the thirst for knowledge.
"Ultimately, the Marines from each EOD command are learning different methods of approach and tactics from each other, all the while maintaining that fighting spirit," said Capt. James Otto, officer in charge of MCB Quantico EOD. "They came here to win! but if they walk away having learned something new that is an opportunity to teach to the new generation of EOD technicians."