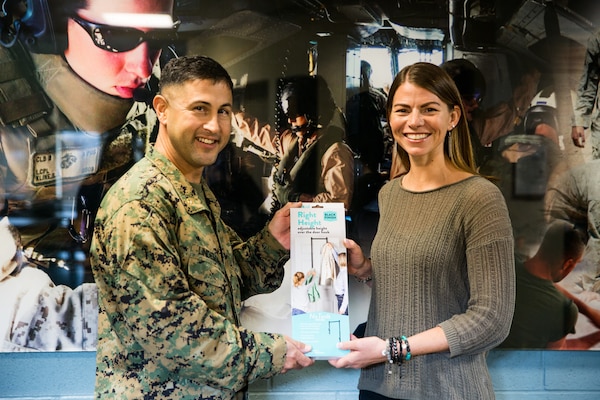 CAMP PENDLETON, CA —
Military spouse and product developer April Mitchell created an adjustable hook, in hopes of giving people with less mobility more independence. Mitchell decided to give back to the military community by donating 200 of her product to Wounded Warrior Battalion – West during a ceremony aboard Marine Corps Base Camp Pendleton Nov. 15.
"It was because of the military and us moving around, and having to go to different homes, that I came up with this product. It only felt right to give back to the military." April Mitchell, Military spouse and product developer
According to Mitchell, being a self-made entrepreneur shows other military spouses that each and everyone has a voice. Putting time and effort into making a new product not only could be very useful for others, but help make the world a better place. Mitchell finds the process of creating, developing and watching your invention come alive very empowering. With the experience of making her ideas a reality, Mitchell has prompted herself to help others create products themselves.
"I am blessed to have the opportunity to give back, and I really believe that every person, every company, every business, can give back to the community in any shape or form," said Mitchell. "For some, it might be time or resources, monetary or like me, a product. I just want to thank all the people out there and all the businesses that are giving currently to the community, the military, anyone they can. So thank you."
More Media