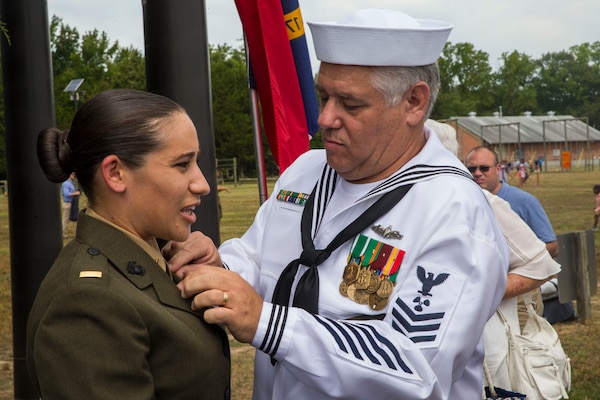 QUANTICO, VA, UNITED STATES —
Bureau of Labor Statistics has stated that one in five teachers have secondary occupations. For one Charlotte, North Carolina native, her profession outside of school hours isn't just another job, it's a commitment to serve and protect.
Amanda Sanders, who grew up in a military family, said she had always aspired to become a teacher. Her dreams were met after graduating from UNC Charlotte, and earning a position at Winding Springs Elementary as a first grade teacher. Although she had finally achieved her lifelong goal, something was still burning inside her.
"I had always wanted to be a school teacher," said Sanders. "It was what I wanted to do, I was going to do it, I did it, and I love it. But God had been stirring in my heart with this idea of joining the Marines, so I checked it out, and it was like I was made for it."
With the help of her local Marine Corps Officer Selection Team, Sanders chose to pursue the officer path, and set off on her next journey.
"I wanted to join the best of the best," said Sanders. "If I'm going to do it, I am going to do it all the way."
"I feel an overwhelming sense of pride to be a U.S. Marine Corps Officer,"Sanders
In June, Sanders attended Officer Candidate School, a 10-week training course at Marine Corps Base Quantico, Virginia. OCS is designed to screen and evaluate potential Marine Corps Officers. Officer candidates must meet difficult physical, mental and leadership standards to graduate. Afterwards, Sanders will continue her training and join the Marine Corps Reserves.
"The reserves just gave me a little bit more control, and I am able to teach and serve," said Sanders, who graduated OCS Aug. 10 and was commissioned as a second lieutenant the same day.
Paul Sanders, her father, served in the Navy for 20 years and retired as a petty officer first class. Paul attended her pinning ceremony and presented his daughter with her first salute. The act of the first salute is a tradition designated for an enlisted service member who has had the most impact on the commissioning officer's life.
Elementary School Teacher Serves Country and Corps
Photo by Sgt. Jorge A. Rosales
"I am very proud of Amanda," said Sander's father. "I think what she accomplished is amazing and I know she has a bright future ahead of her."
Now, 2nd Lt. Sanders is scheduled to attend The Basic School, a 28-week course that teaches new officers the basics of being an officer in the Marine Corps, at MCB Quantico. Soon after, Sanders will receive initial training in her military occupation and obtain orders to her first unit.
"I feel an overwhelming sense of pride to be a U.S. Marine Corps Officer," said Sanders. "I'm so thankful for the investment that people put in me, including my family, my platoon staff and God."