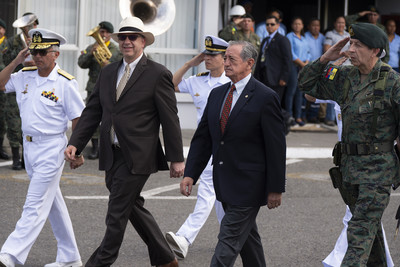 Oct. 25, 2018 —
ESMERALDAS, Ecuador — As part of its partnership with Ecuador, the hospital ship USNS Comfort (T-AH 20) hosted officials from the government of Ecuador during the ship's medical assistance visit, Oct. 22.
Ecuadorian Minister of Defense, Oswaldo Jarrin, and U.S. Ambassador to Ecuador, Todd C. Chapman, were among the distinguished visitors aboard Comfort for a tour of the ship's medical facilities and a meeting with senior leadership. Both officials, along with Rear Adm. Sean Buck, commander, U.S. 4th Fleet, made remarks during a press conference held aboard the ship.
"The U.S. Navy hospital ship Comfort begins its medical support for the people of Ecuador, our first mission stop of five, over an 11-week period, here, in the Southern hemisphere," said Buck. "Working with health and government partners in Ecuador, the embarked medical team will provide care onboard this ship, as well as at two sites ashore."
During the conference, the Ecuadorian officials and Buck discussed Comfort's mission in Ecuador.
"This deployment represents the United States' enduring promise to the peoples of Ecuador and other Latin American nations of our friendship, our partnership and our solidarity," added Buck. "This mission will enable us to strengthen ties in support of our enduring partnerships with the people of Central and South America. It is a partnership that will enhance our shared values, interests, and community, and a commitment to unity, security and stability in the region."
Comfort is on an 11-week medical support mission to Central and South America as part of U.S. Southern Command's Enduring Promise initiative. Working with health and government partners in Ecuador, Peru, Colombia and Honduras, the embarked medical team will provide care on board and at land-based medical sites, helping to relieve pressure on national medical systems caused partly by an increase in cross-border migrants. The deployment reflects the United States' enduring promise of friendship, partnership and solidarity with the Americas.
For more information, visit www.facebook.com/NAVSOUS4THFLT, www.dvidshub.net/feature/comfort2018, and www.navy.mil.