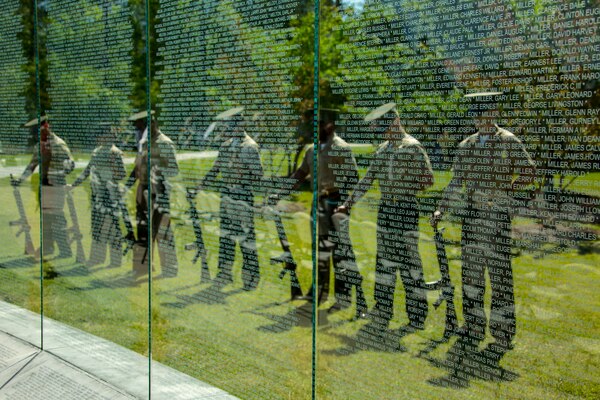 CAMP LEJEUNE, N.C. —
Community members and leaders gathered with service members and Vietnam veterans at the Onslow Vietnam Veterans Memorial for the Vietnam Veterans Recognition Day ceremony Saturday, to remember the men and women who fought and gave their lives on behalf of the American people during the second longest conflict in our county's history .
"I am truly honored and humbled to represent Camp Lejeune in this ceremony to commemorate those veterans who fought in Vietnam," said Col. Scott Baldwin, deputy commander, Marine Corps Installations East-Marine Corps Base Camp Lejeune. "It is a place that plays a central role in our history and our country's story in a time that includes one of the most painful and challenging eras we have ever endured as a nation."
More than 58,000 Americans lost their lives in the brutal conflict and another 200,000 were wounded. The war, which spanned more than 16 years of U.S. involvement left the American people divided, many of whom ignored the sacrifice made on their behalf.
For many Vietnam veterans, the ceremony was an opportunity to pay tribute to their fallen comrades who paid the ultimate sacrifice and to reflect on their own, personal sacrifices.
Vietnam veteran Michael Carr held back tears as he reflected on his 10 year service. "I have two friends that are on this wall," Carr said.
Veterans of the Vietnam War felt they returned to an America who did not want them, from a war the American people did not understand, but the men and women who answered the nation's call in a controversial time of turmoil were remembered that day as heroes.
The advocacy group, Rolling Thunder, echoed the names of 38 North Carolinians who were prisoners of war or missing in action. The 38 individuals are service members who never returned home and were never accounted for.
"Lots of things that we have now that maybe some folks take for granted are because of the sacrifices Vietnam veterans made," said Joe Fore, president for Rolling Thunder Chapter NC-5. He said the sacrifices made from those who came before him have paved the way for other service members.