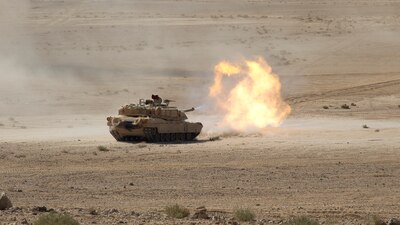 JORDAN, Sept. 12, 2019 — A thunderous riot of artillery and small arms fire pockmarked the desert hills here as the culminating event of Eager Lion 2019, a coalition combined arms live fire exercise, came to a calamitous conclusion Sept. 5, 2019.
A herculean response, British, Qatari, Jordanian and U.S. troops successfully defended a simulated threat to the Jordanian border, a testament to not only the countless months it took to plan the event but to the ability of military allies from around the world to seamlessly integrate tactics, techniques and procedures.
"We have concluded the exercise with the CALFEX today and you have seen what has happened on the ground- the synchronization and the cohesion of forces that have been working together," remarked Jordan Armed Forces Brig. Gen. Mohammad Al-Thalji, director of joint exercises and training for the JAF, and co-director of Eager Lion 2019.
"You could not make the American soldiers out from the Jordanian soldiers," Al-Thalji added, " and that is one of the main objectives: to improve and to enhance the interoperability of our forces and to also develop the capability to work together in the future to meet and to reduce the challenges and threats that are threatening our safety and security."
It's all countries participating in Eager Lion who have an inherent interest in the stability of the Middle East, said U.S. Army Col. Grant Fawcett, commander of 3rd Armored Brigade Combat Team, 4th Infantry Division.
"The 3rd Brigade is also based out of Kuwait, and with our mission over there with Operation Spartan Shield we work with all of our Middle Eastern allies to make sure that we're better postured for anything that might happen in the region," he said.
"Being able to coordinate with the countries that we have here and actually conduct military operations alongside of them sends an important message to the entire region, that the U.S. and our allies are focused on stability," he added.
A message sharpened by the opportunity to practice and refine massive coalition military movements, said the U.S. commander.
"We don't get those opportunities to do that very much," Fawcett said, "and this range complex here in Jordan is absolutely phenomenal for us to coordinate larger scale operations. Any time that we're able to use range complexes like this…the better of we are."
Both men, however, firmly believe the CALFEX and Eager Lion was more than an opportunity for their respective forces to train with and exchange military tactics and best practices.
"To be honest with you, this exercise has also increased the understanding and increased the degree of tolerance between our military forces," Al-Thalji said.
"It is not just a military training exercise- it is more than training," he continued. "We have been able to focus on social barriers and on the commonalities, not the differences, and what brings us together not what differentiates us."
Fawcett agreed.
"It's important for our younger leaders- the sergeants and staff sergeants, the lieutenants and captains- to get exposed to how to work with a different culture," he said.
"Anywhere that the United States goes to help solve problems overseas we're always going to be with our coalition allies," he added. "That ability for those leaders to interact with a couple of coalition partners on a day-to-day basis and work through interoperability and language barriers is a very important lesson."
Reflecting upon those lessons, the culminating event and Eager Lion, Al-Thalji was thankful for the inexhaustible support that had been offered to Jordan Armed Forces.
"The exercise was very beneficial to the participating troops, and what we have seen is the credibility of the organizing teams," said Al-Thalji.
"We have to ask ourselves: what has brought 30 countries to be part of the exercise," he asked in reference to the 8,000 participants representing not just the U.S. and Jordan, but 28 other countries from around the world.
"That is to the credibility of the Jordan Armed Forces and the U.S. Central Command in their objectives, in their planning and their execution of this exercise," he added..
It's a remarkable achievement according to Fawcett as well.
"This is a phenomenal training event, we're very excited to be here," he said. "I really think that it shows the commitment that both the U.S. has to Jordan and that Jordan has to the U.S. and all of our allies that are here."