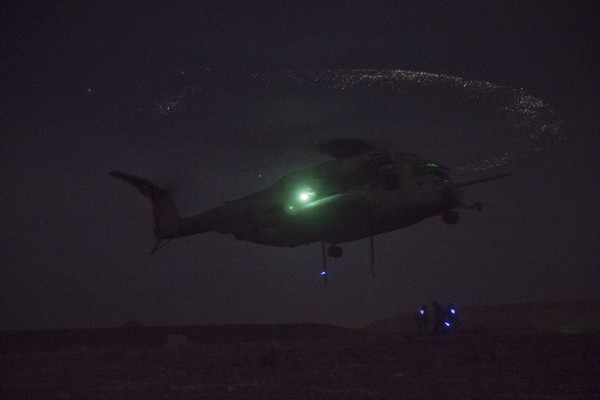 MARINE CORPS BASE CAMP PENDLETON, Calif. —
Marine Corps Base Camp Pendleton, California – As America's expeditionary force in readiness the Marines are forward deployed to win our nation's battles swiftly and aggressively in times of crisis. They fight on land, sea and air, as well as provide forces and detachments to naval ships and ground operations. Behind every infantry unit that is in the fight, there is a logistics unit right behind them providing them logistical support. These logistics units must undergo evaluations to ensure they are up to the task of providing this support.
As a sea-based Marine Air-Ground Task Force while deployed, the 11th Marine Expeditionary Unit acts as a forward-deployed expeditionary crisis response force, embarking troops, vehicles, aircraft, and equipment aboard war ships. In order to ultimately be ready to deploy with the 11th MEU, U.S. Marines and Sailors with Combat Logistics Battalion 11, 1st Marine Logistics Group, conducted a field exercise for their Marine Corps Combat Readiness Evaluation at Camp Pendleton, Calif., from July 16-20, 2018.
"This is the MLG's way of certifying that we are qualified and capable to do all of our core tasks before we chop to the 11th Marine Expeditionary Unit and start doing MEU specific missions," said Capt. Zachary Levee, the operations officer for CLB-11.
CLB-11 was evaluated on many of their mission sets throughout the duration of their time in the field.
"We were evaluated on our ability to conduct foreign humanitarian assistance, evacuation control centers, logistical support to a local embassy, water purification, helicopter support team missions, combat patrols, tactical convoys, and areas of what the engineers can do," said Levee. "Right now we have the chance to display our capabilities and what we can bring to the MEU."
A few unknown situations befell CLB-11 during the exercise as well, such as a hostage situation where Sgt. Maj. Fausto Cabrera, the sergeant major of CLB-11, and Maj. Andrew Kettner, the executive officer of CLB-11, were taken hostage early in the morning and tied up with a simulated bomb forcing the Marines and Sailors to cordon off the area and call their explosive ordnance disposal detachment to disarm the explosive and rescue the hostages.
The Marines and Sailors used this opportunity to do their jobs in a field environment while learning from each other and perfect efficiency in their job fields.
"Our goal is to say that we are proficient enough to do our jobs in the field and give logistical support to the infantry units on the ground," said 1st Lt. James Higginson, the S-4 officer for CLB-11. "We want to evaluate our battalion to not only see where we have gaps and where we need to improve, but also to be evaluated by our higher headquarters to know that we are capable of completing our missions as a part of the bigger MEU construct."
In the coming months CLB-11 will officially attach to the 11th MEU to become the logistics combat element for their upcoming deployment.
"When we chop over to become the LCE for the 11th MEU we will start doing our part to support the bigger role of the Marine Air-Ground Task Force," said Levee. "What we're doing out here now is a very small piece of our capabilities that we will have once we chop to the MEU."
The Marines and Sailors had to perform under pressure, while tired and in an austere environment, but they prevailed and continued to perform their duties admirably.
"The Marines are doing excellent," said Levee. "There's always room for improvement and the evaluations that we have received have impressed me with how we did. The Marines have done some great things."