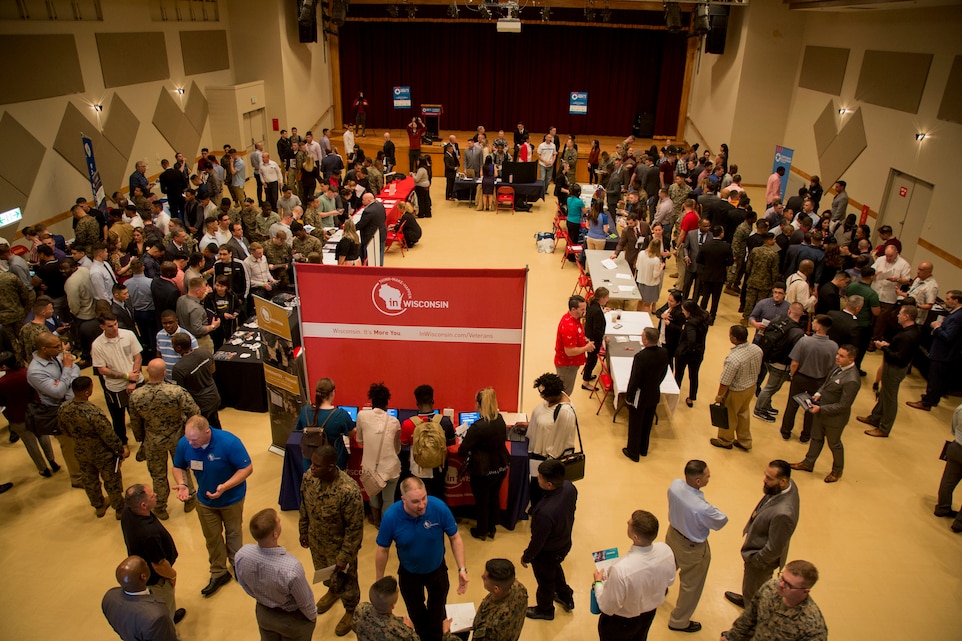 CAMP FOSTER, OKINAWA, Japan —
Members of the U.S. military community on Okinawa participated in a Career Summit hosted by Hiring Our Heroes Feb. 25.
Over twenty employers showed up to participate in the Camp Foster Career Summit. Microsoft, Toyota, First Command, and Amazon Web Services were among the employers seeking to hire Marines with redeeming qualities, work experience, and who are fresh in the workforce.
"We know that members of the military that are stationed overseas don't have access to the resources of employers right outside of the gate," said Marnie Holder, director of veteran programs at Hiring Our Heroes. "We know that service members and their families need to be informed of what jobs and opportunities are out there for them," she said.
200224-M-OP162-1274
Photo by Lance Cpl. Zachary Larsen
Holder goes on to say that the employers that came out were expectant to meet great people.
"We have 24 different employers here today. We had many more that wanted to come out, especially after the success of last year's Career Summit."
At the end of the summit, a fair was held for everyone in attendance to connect individuals to representatives from companies in which they found interest.
"This Career Summit is important because every Marine is going to transition out of the Marine Corps, whether that be after four years or, if you are like me, 45 years," said retired Sgt. Maj. of the Marine Corps Ronald L. Green, 18th sergeant major of the Marine Corps. "If you are within two years of getting out of the Marine Corps you should be coming to these summits, and then come back the last year to learn anything you may have missed, or really keen in on an employer that you happen to take interest in," said Green.
Green also shared his philosophy as advice for Marines who are close to transitioning out.
200224-M-OP162-1300
Photo by Lance Cpl. Zachary Larsen
"I have a new analogy called 'Jump', which is that everyone in the military is riding an aircraft, and when someone transitions out, they take that chance in life and they jump. The military gives us all the tools we need before jumping and we need to trust those tools they gave us. This Career Summit today is one of those tools, so use it as a tool for when you jump," he said.
The summit was hosted by Hiring Our Heroes, whose mission is to connect the military community with civilian companies to create economic opportunity and a strong and diversified workforce. For additional information please visit www.hiringourheroes.org.