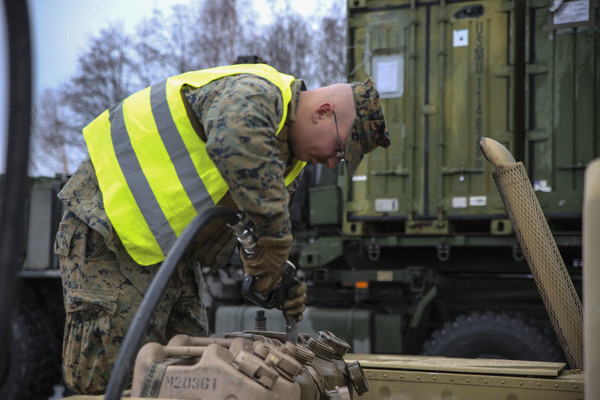 CAMP LEJEUNE, North Carolina —
U.S. Marines with II Marine Support Battalion, II Marine Expeditionary Force Information Group, conducted a convoy operation to transport a shipment of military vehicles and equipment from the port of Orkanger to Vaernes Air Station for Exercise Trident Juncture Nov. 2, 2018.
"Today we helped 2nd Marine Aircraft Wing transport their military vehicles and supply from the port to their staging area," said Staff Sgt. David Richardson, motor transport operations chief, II Marine Support Battalion. "This mission was critical because 2nd MAW will need the supplies and equipment for exercise Trident Juncture."
The convoy operation was a first for Lance Cpl. Truman Jackson.
Jackson is a data systems administrator assigned to II Marine Support Battalion. As a data systems administrator, he supports a myriad of computer and network operating systems such as database administration and communications, just to name a few. Most of his daily work routine requires him to work behind the scenes at a help desk, so being part of the convoy was a great opportunity for him to get away from his work station.
"This was the first convoy operation that I have done here in Norway," said the Wheaton, Illinois native. "My role today was to facilitate communications between the command operations center and the convoy commander to ensure everyone makes it back to the base."
Working in Norway also provides him an opportunity to experience a new culture as he gets to interact with a lot of foreign military officials on a daily basis.
"I feel pretty good working here in Norway because I get to work with a lot of foreign military personnel and exchange ideas," he said. "I have also had the chance to eat reindeer meat which was pretty good."
Marines and Sailors from II Marine Expeditionary Force from Camp Lejeune, North Carolina have been conducting a variety of operations with NATO allies over the past month. Approximately 7,500 troops from II MEF are engaged in training. Exercise Trident Juncture 18 is one of NATO's largest military exercises currently underway in Norway, Sweden, and Finland with more than 50,000 troops from more than 30 NATO members and partner nations.
During this past convoy, II MSB managed to transport 6 military vehicles and 8 containers. It will be one of the many convoy operations II MSB supports here in Norway, with many more to come.