This report originally published at centcom.mil.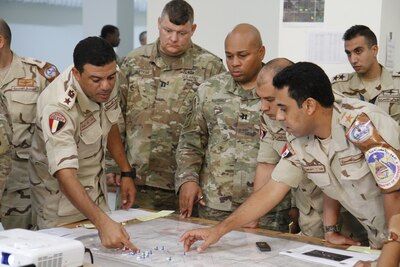 MOHAMED NAGUIB BASE, Egypt, Sept. 19, 2018 —
U.S. and Egyptian armed forces took part in a multilateral Command Post Exercise (CPX) on September 9-17 during Bright Star 18.
The Bright Star 18 CPX aimed to pursue mutual goals of strengthening relationships and enhancing military interoperability between U.S. and Egyptian armed forces through simulated scenarios of conventional and irregular warfare.
"[The CPX] gives a common language on how we break down a [military] order. We can, as two countries together, go through the military decision making process and be able to accomplish tactical and strategic goals," said Capt. Jeffrey Watkins, exercise and operations officer for the 155th Armored Brigade Combat Team, Task Force Spartan.
The exercise was designed to simulate real world challenges, without having to exercise real world costs and potential hazards. The participating nations were exposed to similarities and difference in military doctrine, such as restrictions on the use of military force or employment of other forces. The goal of the exercise was to leverage each other's military capabilities to develop tactics, techniques, and procedures to solve both operational and logistical problems.
"We worked together to fight a common enemy using a mixed training battalion, Egyptian armor with American armor. They have different amounts of tanks in their formation, which means different amounts people," said Capt. Thomas Mitchell, logistics officer for the 155th ABCT.
A top focus during the exercise was bridging over cultural and language barriers to prevail in the simulated scenarios and prepare the participants in the event of a real world scenario occurred. One scenario in particular focused on counterterrorism operations; a threat both nations are committed to combating.
The CPX began with a Combined Arms Rehearsal (CAR), where partner nations could see and walk-through what was happening in the operation before the operation began. Both nations rehearsed and briefed the plan together in preparation for the exercise. "The CAR helps synchronize all the war-fighting functions; the Americans, Egyptians, and British all had a piece in it. We saw how all the other companies and enablers come together to fight. When it comes time to actually execute we know how to synchronize war fighting functions across the battalion," said Watkins.
The scenarios for the exercise were chosen based on real world challenges that nations currently face or could potentially face. One scenario focused on defensive operations during conventional warfare, while the other focused on irregular warfare in counter-terror operations. Scenarios like cyber security, information operations, counter improvised explosive device, and weapons of mass destruction, were injected into the exercise to test the cooperation of the participants.
The CPX also involved players from other nations in the multilateral exercise to include the U.K., Greece, United Arab Emirates, Saudi Arabia, and Jordan militaries; each nation offering different capabilities and experiences to solve real world problems.
"Over time [the CPX] can only get better. The Egyptians understand the American way of thinking and vice versa," said Mitchell.
Bright Star 18 is a multilateral exercise which builds on the strategic security relationship between Egypt and the United States. The success of the exercise is one that the participants hope encourage others to join in the future, said John Harris, with U.S. Army Central, and leader planner for the CPX.
"It is our desire to increase the number of nations participating in future Bright Star exercises to send the message that we are committed to combating terrorism and promoting regional stability," said Harris.
-30-
U.S. Central Command (CENTCOM) reports are created independently of American Military News (AMN) and are distributed by AMN in accordance with applicable guidelines and copyright guidance. Use of CENTCOM and U.S. Department of Defense (DOD) reports do not imply endorsement of AMN. AMN is a privately owned media company and has no affiliation with CENTCOM and the DOD.