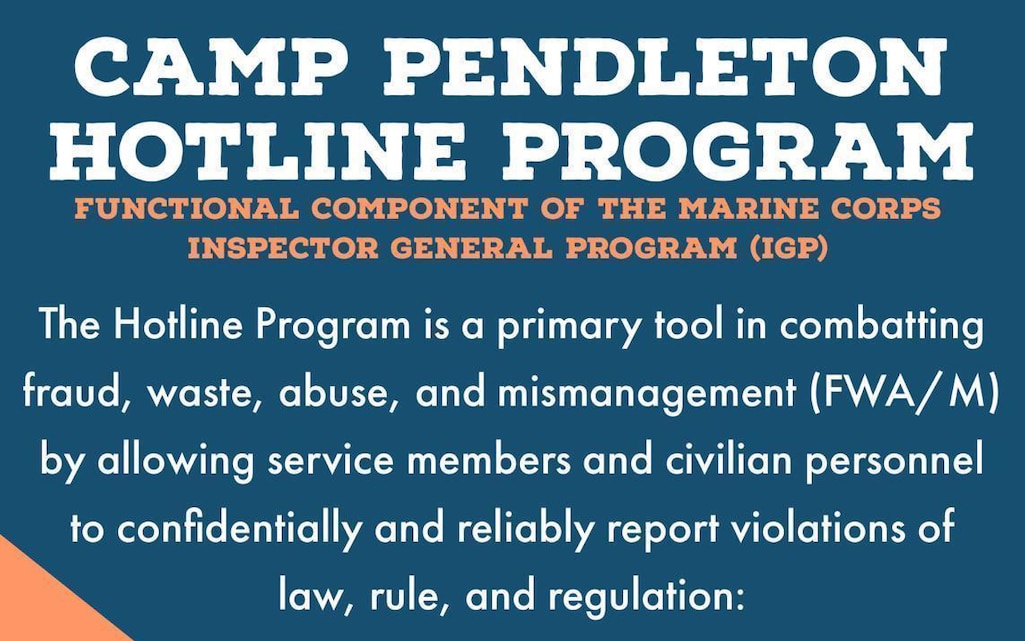 CAMP PENDLETON, Calif. —
Camp Pendleton implements new policies, provisions and guidance by establishing the Marine Corps Installations – West Marine Corps Base, Camp Pendleton Hotline program. By refocusing the MCI-W MCB CAMPEN Hotline Programs into one command program, it clarifies the responsibilities of the Regional Command Inspector General and ensures the RCIG is able to support Marine Corps policy that combats fraud, waste, abuse and mismanagement within the Marine Corps.
"The MCIWEST- MCB CAMPEN Hotline Program is a functional component of the Marine Corps Inspector General Program," as stated in MCIWEST-MCB CAMPEN ORDER 5370.1B. "Accordingly, the MCIWEST- MCB CAMPEN Hotline Program is a primary tool in combating fraud, waste, abuse and mismanagement by providing an alternative to the chain of command that allows service members and civilian personnel to confidentially and reliably report violations of law, rule, or regulation…"
The following are examples of reportable offenses that individuals are encouraged to use the hotline for: inefficiency, misconduct, impropriety, mismanagement, gross waste of funds, abuse of authority, military whistleblower reprisal, or security violations within MCIWEST-MCB CAMPEN.
"The appropriate release authority for IG generated material is the IGMC, or the Commanding General, MCIWEST-MCB CAMPEN, if this MSC generated the material." MCIWEST-MCB CAMPEN ORDER 5370.1B
Matters that can be better addressed via the chain of command by service members and civilian personnel will not normally be addressed by MCIWEST- MCB CAMPEN Hotline Program. For example, consumer complaints in regards to Marine Corps Exchanges should be referred to MCX customer service and not the hotline.
The commanding officer of Naval Hospital Camp Pendleton will operate its own hotline, which can be found at this link: httsp://www.secnav.navy/ig
Inspector General personnel will take the appropriate action while dealing with claims of fraud, waste abuse, and mismanagement. The IG personnel will contact the necessary authorities when warranted while working with claims generated from the hotline. Complaints may be made in the following ways: telephone, email, fax, congressional tasking, mail, walk-ins, or via the Inspector General Case Action Manager website.
200507-M-HQ546-128
Photo by Lance Cpl. Kerstin Roberts
Two special category complaints require specialized handling due to their sensitive subject matter: Military Whistleblower Reprisal and allegations against senior officials.
Any individual wishing to file a complaint can do so anonymously. Those individuals also have the option of revealing their identity. All complaints will be given the same due diligence regardless of the means of filing the complaint.
The order states, "The RCIG shall ensure prompt, responsible and impartial processing of hotline allegations tasked by the IGMC…"
For timely and professional resolution of hotline cases, there are several other resources available. Those resources include the IGMC, Naval Criminal Investigative Service, Naval Audit Service, Marine Corps Investigative Division and Marine Corps Non Appropriated Funds Audit Service.
Individuals who abuse the Hotline Program by knowingly filing false complaints will be investigated and prosecuted as necessary. All complaints will be held in a secure environment and will only be made available to those with an official need to know.
The MCIWEST-MCB CAMPEN Hotline is available for all service members and civilian personnel working aboard the installation. Any incident that does not fall under FWA/M can still be reported to the RCIG in order to resolve the incident in the appropriate way. For more information please visit: https://www.pendleton.marines.mil/Staff-Agencies/Inspector-General/