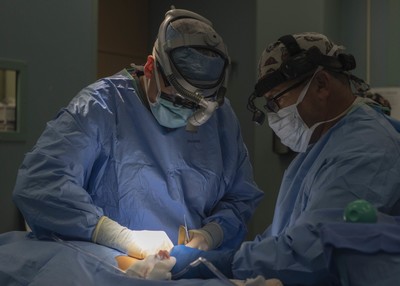 Nov. 13, 2018 —
PAITA, Peru (NNS) — Distant footsteps lightly echo through the empty passageway. Two figures of different height walk briskly through the hall toward a heavy steel door labeled "General Surgery: Authorized Personnel Only." Attached at the hand, the smaller of the two, stops abruptly pulling his mother to a halt.
She sharply whispers something in Spanish to her frightened son. The boy inches toward the now-opened door, as the bright lights expose the sweat on his sun-kissed forehead. What the anxious boy doesn't realize is that this room has a familiarity to him. He was a patient in it once before—­when he was only 8 months old. And now, same as then, he is in good hands.
Pedro Daniel Anton, 8, returned to the hospital ship USNS Comfort (T-AH 20) to receive further care for his cleft lip and palate. His mother, Petronia Eche, reflects on her first experience with the Comfort caring for her son during Continuing Promise 2011, in Peru.
"In 2010, he was born with a cleft palate and when he was 8 months old and the ship came to provide care, we came for his surgery," said Petronia, translated from Spanish. "They were very helpful, we received so much support when we had his first surgery. It was a great surgery, we were very well attended and my son came out well."
After his initial surgery, Petronia knew he needed more surgery to improve his quality of life, but had little to no success in getting the follow-up, in Peru.
"I have tried in the past to get his follow-up surgery done but we have been denied continuously," said Petronia. "But I never gave up. As a mother I knew I needed to be there with him, I never gave up on this because I only want the best for my son."
After more than seven years from his initial surgery, Comfort returned to Paita, Peru. Petronia's prayers were answered and she knew he needed to get aboard to get the care he needed.
"What a coincidence, it must be fate that we are here again," said Petronia, on the verge of tears. "We were in such a long line, sleeping outside in the lines. I was losing my spirits in the wait, but I decided to keep waiting. And out of so many people, we are here."
Pedro and his mother arrived to the ship under the impression that he was going to have surgery on an umbilical hernia in his abdomen. When the doctors looked at his cleft lip, they realized that they had an opportunity and the resources to give him further care.
"Initially, I came because he has an umbilical hernia, but the doctors told me that he needed both surgeries," said Petronia. "Knowing that made me nervous, but I have trust in the doctors and in God. Many of the doctors here in Paita tell me they can't help my son but here they said they can do it."
When the call came in to the medical ward that Pedro and his mother were in, they were overcome with emotion. They both found the courage and strength to stand, take each other's hand, walk up to surgery to complete the journey, and fulfill the reason why they were on the Comfort.
"I've told the doctors, that my son's life is in their hands," said Petronia, overcome with emotion and tears flowing down her cheeks. "I'm so appreciative of this because, here in Peru, we don't have the money to pay for these surgeries, I have tried but we just don't have enough. But, as a mother, I kept trying to find a way for him to get the surgery. I had faith in God and I would tell my husband that one day—someone would come to help us."
Canadian Forces Maj. Davin Schmidt, an oral surgeon aboard Comfort, was the attending surgeon with Pedro for his cleft lip operation. He said it is common for a cleft lip and palate patient to return for further surgeries as they grow and start cutting teeth and forming a stronger jaw. He was also glad to see a repeat patient because it is a rarity that the Comfort's doctors are ever able to follow up with the patients they treat.
"It was very rewarding to see him here again," said Schmidt. "I wasn't personally involved with his care the first time, but cleft lip and palate are complicated cases that need follow-up and repeated procedures over time in a staged manner. Without this, he would not have been able to return to full function. He wouldn't be able to eat normally, he wouldn't be able to have normal speech and he would be at higher risk for health issues such as infections in his sinus."
When Pedro was brought to the operating room, the surgeons and staff operated on his umbilical hernia first, completing the operation in about 20 minutes. Then, Schmidt and his staff took over for the next part of his surgery, which was very complex and took much longer.
"The patient had an alveolar cleft*, so basically what has happened in that case, is that the upper jaw of the maxilla** didn't have bone connecting it all the way through and there was a hole where that should have been extending from the mouth to the nose," said Schmidt. "So what we did, is we opened up that area, reconstructed the gums in that area to create a new floor of the nose."
"We made sure there was a good seal on the palate side," continued Schmidt. "And then we used some bone from his hip so that we can reconstruct it. We brought that bone and then we placed it into the defect that was there so that we could grow new bone and create a new full shaped maxilla that will be able to support teeth and have teeth erupt through there."
Pedro's surgery was a success and the hole connecting his mouth and nose, including the gap in the bone, was repaired.
"We are very excited about the procedure and I feel we got a really good result," said Schmidt. "Checking up with Pedro right before he left the ship, he seemed to be in good spirits, and we are expecting a very good recovery for him."
Feeling jubilant and blessed, Pedro and his mother made their way to disembark Comfort. With their journey one step closer to its completion, Petronia embraced many doctors, nurses and staff before heading back to Paita. With her heart full of graciousness and exuberance, her and her son boarded a small boat to go back ashore.
"I have to be strong for my children," said Petronia. "I encourage them to be strong, we have suffered together throughout his journey and I am thankful to God that he is going to be okay now."
Comfort is on an 11-week medical support mission to Central and South America as part of U.S. Southern Command's Enduring Promise initiative. Working with health and government partners in Ecuador, Peru, Colombia and Honduras, the embarked medical team will provide care on board and at land-based medical sites, helping to relieve pressure on national medical systems caused partly by an increase in cross-border migrants. The deployment reflects the United States' enduring promise of friendship, partnership and solidarity with the Americas.
*An Alveolar Cleft is an opening in the bone of the upper jaw that results from a developmental defect and is present at birth. This area of the jaw that is missing bone is otherwise covered by normal mucosa and may contain teeth. (dcsurgicalarts.com)
**The maxilla forms the upper jaw by fusing together two irregularly-shaped bones along the median palatine structure, located at the midline of the roof of the mouth. The maxillary bones on each side join in the middle at the intermaxillary suture, a fused line that is created by the union of the right and left 'halves' of the maxilla bone, thus running down the middle of the upper jaw. (healthline.com)
For more information, visit www.facebook.com/NAVSOUS4THFLT, www.dvidshub.net/feature/comfort2018, and www.navy.mil.
Get more information about the Navy from US Navy facebook or twitter.
For more news from U.S. Naval Forces Southern Command & U.S. 4th Fleet, visit www.navy.mil/local/cusns/.