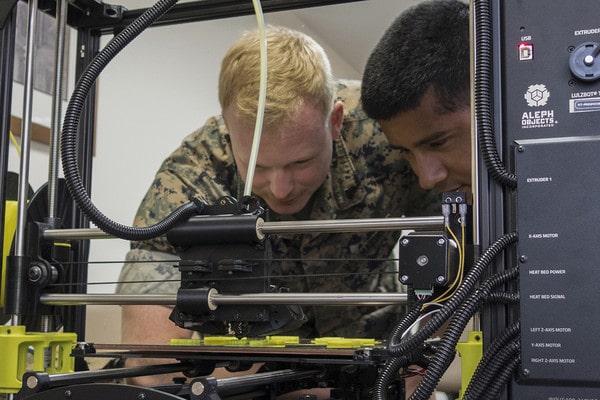 MARINE CORPS BASE QUANTICO, Va. —
Marines now have a way to get help with advanced manufacturing issues any time, day or night.
In a MARADMIN released by Headquarters Marine Corps in January, the Corps established the Advanced Manufacturing Operations Cell at Marine Corps Systems Command to serve as a 24/7 help desk for Marines who need assistance with 3D printing, and other sustainment and manufacturing solutions.
According to the message, the AMOC is available "to answer questions, field requests for prints and fully vet any part that requires fabrication by a Marine organization."
"The Advanced Manufacturing Operations Cell is a team of Marines and civilians centered on helping fleet Marines find parts they need to keep their equipment functioning efficiently," said Capt. Matthew Friedell, AMOC project officer. "Our motto is, 'If we can't find it, we'll make it.' Then we'll get it to Marines as fast as possible."
Marines can spend days, weeks and even months waiting for parts to arrive through traditional supply methods, Friedell said.
As part of Marine Corps Systems Command—the acquisition command of the Marine Corps—the AMOC is in a unique position to connect Marines with engineering data for advanced manufacturing or with other government entities to get the parts they need as quickly as possible.
"Instead of sitting and waiting for a part to come in the mail, the AMOC can try to find it, help them make it or source it through an external supply system," Friedell said. "We're giving Marines options they haven't had before."
The AMOC is not limited to only 3D printing, but can assist with all forms of manufacturing.
"If [Marines] have a polymer printer or a small [computer numerical control] mill and a really big idea, we can help them tap into larger-scale systems and engineers," Friedell said. "We help them become more innovative by giving them an outlet and a conduit to more advanced equipment training and engineering support to get them solutions faster."
The AMOC also vets all requests from Marines through required legal and safety reviews, as well as the appropriate MCSC program office for the part or equipment in question, according the MARADMIN.
"The AMOC is manned 24/7 to help Marines talk through their problems and find solutions quickly," Friedell said. "With the current state of manufacturing technology and digital manufacturing across the world, there's no reason Marines shouldn't be well educated on it and have access to it any time of day."
Fleet Marines can reach the AMOC at [email protected] or by calling (703) 432-3966.