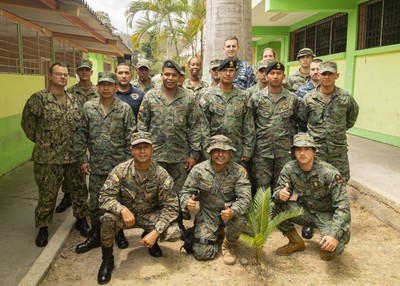 Oct. 30, 2018 —
ESMARALDAS, Ecuador (NNS) — American, Canadian and Ecuadorian combat medics and hospital corpsmen gathered at a medical site, established by the hospital ship USNS Comfort (T-AH 20) in Esmeraldas, Ecuador, to teach each other the different methods that each country uses for medicine in a tactical environment, Oct. 27.
Participants included ten Ecuadorian service members, four U.S. Navy Sailors and one Canadian soldier.
One of the main points of the medical exchange covered the eight-step medical algorithm, "PMARCHHP" which stands for patient and provider safety, massive hemorrhage, airway, respirations, circulation, head trauma, hypothermia, and pain medication. All the countries involved follow PMARCHHP or have a similar algorithm for patient treatment.
U.S. Navy hospital corpsmen and doctors prepared a presentation for Ecuadorian soldiers, sailors and airmen that outlined the medical tactics and training that Sailors use to maintain medical readiness.
"These kinds of engagements are very important for the Navy and for the U.S. overall," said Cmdr. Rhonda Lizewski, training and readiness officer aboard Comfort. "They demonstrate our bilateral commitment to our partners and it's not just us teaching them something, but they are also teaching us."
The Ecuadorian service members also shared their medical knowledge and combat medic tactics with the involved partner nations.
"We are sharing our medical knowledge with each military here and I feel very grateful to be here representing my country," said Ecuadorian air force second sergeant, Luis Reyes Navia, from Esmeraldas, Ecuado, translated from Spanish.
Training alongside allies strengthens ties regardless of language or cultural differences. This was exhibited through the willingness to work together and learn from each other that everyone brought to the table.
"I'm happy to be here," said Canadian master corporal Kristian Tam, from Victoria, British Columbia. "It's always nice to see how other people work and get a different perspective."
After discussing medical tactics, the service members proceeded to demonstrate these techniques and train each other.
The exchange of medical techniques was one of many steps in strengthening relations amongst partner nations and their militaries.
Comfort is on an 11-week medical support mission to Central and South America as part of U.S. Southern Command's Enduring Promise initiative. Working with health and government partners in Ecuador, Peru, Colombia and Honduras, the embarked medical team will provide care on board and at land-based medical sites, helping to relieve pressure on national medical systems caused partly by an increase in cross-border migrants. The deployment reflects the United States' enduring promise of friendship, partnership and solidarity with the Americas.