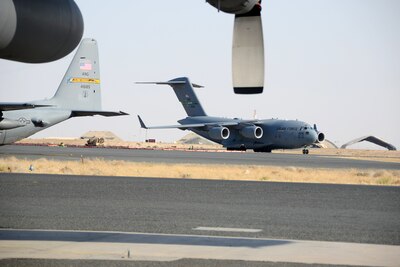 ALI AL SALEM AIR BASE, Kuwait, July 10, 2019 —
When C-130 aircraft from the Montana Air National Guard and Connecticut ANG touched down on the flight line to replace Guard units from Rhode Island and California, the aircrews and maintenance teams seamlessly transitioned to provide non-stop flight operations.
U.S. Air Force Capt. John Pulaski, 386th Expeditionary Operations Group C-130 pilot deployed from the 120th Airlift Wing, Montana Air National Guard, said the new crews took over the flying schedule two days early and within 48 hours of their arrival ensuring the mission would continue uninterrupted.
"Whatever requires moving, we move," Pulaski said. "We can move almost anything in the AOR."
The C-130 missions flown from Ali Al Salem Air Base provide tactical airlift support to ongoing operations throughout the U.S. Central Command area of responsibility. The aircrews are tasked with the critical mission of flying personnel, equipment and needed supplies around the region into established bases as well as in austere locations.
"It's a very consistent flow here … but that's the beautiful thing about the C-130 – it can land on short runways," said U.S. Air Force Lt. Col. David Smith, 779th Expeditionary Airlift Squadron commander. "Our flying schedule is extremely busy."
Ali Al Salem is primary tactical airlift hub for resupply missions and providing combat service supporting Operations Inherent Resolve, Spartan Shield and Freedom Sentinel.
Running aircraft and missions into different countries around the AOR can be a challenge especially when days can last more than 12 hours supporting joint and coalition partners, Pulaski said.
Four C-130s from the 120th Airlift Wing combined efforts with another four C-130s from the Connecticut Air National Guard's 103rd Airlift Wing. Together, they're comprised of crews from Puerto Rico, Illinois and Georgia. This is the first time the Connecticut and Montana units have flown together since assuming the C-130 mission. In 2013, both transitioned to C-130s; the Montana ANG previously flew F-15s and the Connecticut ANG flew A-10s.
As squadron commander, Smith said he is focused on safety and completing the mission.
"We want to build on the reputation of the unit," Smith said. "To out do what we did last time."
The C-130 units are crucial to the war fighting mission around the globe, but this highly versatile aircraft is also used by the ANG during Defense Support to Civilian Authorities after large-scale disasters such as wildfires, earthquakes and hurricanes. For example, the Montana unit was called to support disaster response efforts in the Caribbean after Hurricane Maria hit in September 2017 after redeploying from Kuwait in late 2016.